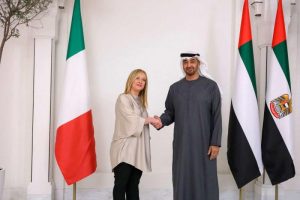 News wire —
Italian oil and gas group
Eni
said it would cooperate with Abu Dhabi National Oil Co, ADNOC, on energy transition projects, as Rome's new government works to rebuild ties with the United Arab Emirates.
After a meeting with UAE President Sheikh Mohammed bin Zayed al-Nahyan, Italian Prime Minister Giorgia Meloni said that now that reciprocal trust was being re-established areas for future cooperation could range from energy to defence.
"Discussions … went very, very well and we're going back to a strategic partnership. Italy historically had very strong relations with UAE which in recent years experienced serious difficulties," she told reporters in Abu Dhabi.
Italy in 2021 halted the sale of thousands of missiles to Saudi Arabia and the UAE, citing Rome's commitment to restoring peace in Yemen. The UAE in turn asked Italy to vacate a military base in the Gulf.
State-controlled Eni said that together with ADNOC it would explore opportunities in renewable energy, blue and green hydrogen and carbon dioxide capture and storage.
The two companies will also work on reducing greenhouse gas and methane gas emissions, as well as routine gas flaring.
Italy signed a declaration of intent with UAE climate envoy and designated president of the COP28 climate summit Sultan Ahmed Al Jaber, who last month pledged to lay out an inclusive and innovative roadmap to tackle global warming.
"We found our partners extremely open and attentive to the priorities on our agenda," Meloni said.