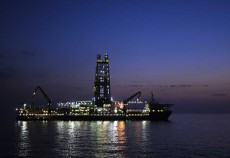 29 October 2011, Sweetcrude, Maputo – Italian energy group, Eni, says its largest ever gas discovery at an operated field has just got even bigger as it boosted the potential resources at play off Mozambique by 50 per cent.
The Italian major has revealed it struck a separate pool of potential gas at its Mamba South 1 prospect off the south-east coast of Africa.
Last week, the Paolo Scaroni-led company announced it had made its largest ever gas find at an operated play with at least 15 trillion cubic feet of gas in place in the Mamba South Area.
This has now been hiked by a further half with Eni saying there is the potential for up to 22.5 Tcf of gas in place at the play.
"During deepening of the well, it encountered a new separated pool that contains a potential of up to 7.5 Tcf of gas in place in clean sands from the Eocene age," a company statement read.
"The new sequence has about 90 metres of gross gas pay and has also been successfully cored."
The original discovery unveiled a total of 212 metres of continuous gas play in high-quality Oligocene sands.
Eni is now to press ahead with its plan to drill to a total depth of 5000 metres after which it will drill a second well, Mamba North 1, about 22 kilometres away.
"It is expected that the unprecedented potential of tertiary play existing in area 4 will be further defined in the forthcoming appraisal campaign," Eni continued.
The current well is located in water depths of 1585 metres about 40 km off Cabo Delgado coast in the northern offshore of Mozambique. Eni is the operator of Offshore Area 4 with a 70% participating interest. Co-owners in the area are Galp Energia (10%), Kogas (10%) and ENH (10%, carried through the exploration phase).