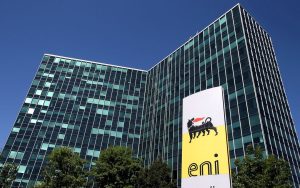 Milan — Italy's Eni (ENI.MI) said its second quarter adjusted net profit dropped 49% from last year, reflecting falling oil and gas prices and weaker refining margins.
Adjusted net profit in the period came in at 1.94 billion euros ($2.13 billion) down from a bumper result of 3.81 billion euros a year ago, but above an analyst consensus of 1.64 billion euros.
The group, however, raised its 2023 guidance for its gas business (GGP), which underpinned the group's results in the second quarter with an adjusted operating profit of 1.1 billion euros, beating a 0.5 billion analysts' forecast.
It also tweaked up its full-year outlook for its low-carbon unit Plenitude and revised down its plans for capital expenditures this year.
Despite a bleaker outlook for commodity prices, Eni said it would continue a share buy-back programme started in May.
"Considering our first-half results and continuing business performance that drives raised guidance, we have a solid position from which to pay our first quarterly instalment of the raised 0.94 euros per share 2023 dividend in September and continue our 2.2 billion euro buy-back," Eni CEO Claudio Descalzi said.
*Francesca Landini, editing: Federico Maccioni & David Evans – Reuters