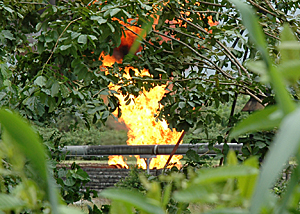 17 November 2011, Sweetcrude, Benin City – The Environmental Rights Action/Friends of the Earth Nigeria (ERA/FOEN) says the Nigerian government is insincere about ending gas flaring, as the deadline to oil companies involved in the practice has been extended to December 2013.
The group accused relevant government agencies of failing in the discharge of their duties and in enforcing relevant statues and judicial pronouncements which has led to reckless exploitation of the environment by extractive industry actors.
In a communiqué issued at the end of its fourth National Environmental Consultation in Benin City, Edo State, the organisation said the Federal Government was yet to take any step towards the implementation of the recommendations of the UNEP report on the Niger Delta, three months after its submission.
ERA/FOEN criticised plan by the government to generate ethanol/biofuel from cassava plantations.
"The plan to focus on the generation of ethanol/biofuel from cassava plantations is one more in the series of economic policies that will generate pressure on land and evict local small scale farmers from their farms, as is already happening in Ogoni, Kwara state and other places," the communique read.
The group called for decisive policies to be fashioned and implemented towards the protection of the environment to reduce the effects of climate change on the country especially as the country was not adequately equipped to handle the fallout from environmental negligence.
"…that there is orchestrated ploy by biotech companies to introduce GMO crops into Nigeria without proper regulatory mechanisms despite their proven dangers to peoples' health, biodiversity and the environment," it added in the communiqué.
Presenting its recommendations at the end of the three day meeting, participants called for immediate implementation of the recommendations of the UNEP Report on Ogoni land and an extension of the Audit to cover the entire Niger Delta region with mechanisms established for immediate remediation of impacted areas.
It also called on the government to expand the scope of the National Environmental Standards and Regulations Enforcement Agency (NESREA) operation to cover the enforcement and monitoring of compliance to national and international environmental standards in the oil and gas sector.