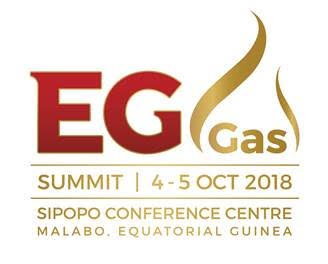 *Gas Summit will feature international delegations from Equatorial Guinea, Nigeria, Burkina Faso, Ghana, Tchad and others
03 September 2018, Sweetcrude, Malabo, Equatorial Guinea — Since the discovery of significant oil reserves in the 1990s, natural gas exploitation and export have become one of the most important assets and economic drivers in Equatorial Guinea.
As often expressed by the Government, the country has the vision to become the region's Gas Hub, which entails close cooperation with local and international energy companies.
On the wave of recent developments in the Equatoguinean gas market, and with the vast interest from international and local investors, SONAGAS G.E. and the CWC Group will host the Equatorial Guinea Gas Summit and Exhibition under the auspices of the Ministry of Mines & Hydrocarbons and GEPetrol. This important regional meeting will take place at the Sipopo Congress Center, Malabo, on 4 and 5 October 2018 as part of the country's 50th Independence Anniversary celebrations.
'I am delighted to be delivering the opening keynote address and sharing the President and Government's vision and making important announcements that will help boost the oil and gas sector in country' expressed H.E. Gabriel Mbaga Obiang Lima, Minister of Mines and Hydrocarbons who will deliver a keynote address following the opening remarks from the country's President, H.E. Teodoro Obiang Nguema Mbasogo.
The Equatorial Guinea Gas Summit will feature the participation of international delegations from Equatorial Guinea, Nigeria, Burkina Faso, Ghana, Tchad and others. Distinguished speakers include:
H.E. Teodoro Obiang Nguema Mbasogo, President of the Republic of Equatorial Guinea
H.E. Gabriel M Obiang Lima, Minister of Mines & Hydrocarbons, Equatorial Guinea
H.E. Lucas Abaga Nchama, Minister of Finance, Economy and Planning, Equatorial Guinea
Hon. Dr. Emmanuel Ibe Kachikwu, Minister of State for Petroleum Resources, Federal Republic of Nigeria
Juan Antonio Ndong Ondo, Director General, SONAGAS, G.E.
Antonio Oburu Ondo, Director General, GEPetrol
Hilaire Kabore, Director General, Sonabhy Burkina Faso
Tahir Hamid Nguilin, Societé des Hydrocarbures du Tchad, Republic of Tchad
The event is organised with support from industry stakeholders: Noble Energy, Marathon Oil, EG LNG, Atlantic Methanol Production Company, Kosmos Energy, Trident Energy, Ophir, Shell, Mitsui and Marubeni. The two-day programme will include ample networking opportunities with government and stakeholders alongside the Summit sessions which will address the opportunities and challenges in the upstream, midstream and downstream as well as the following themes and projects:
Updates and opportunities in:
*Farm-in in exploration projects
*Fortuna Project
*Bioko Oil Terminal
*Refinery: Modular and Fixed
*Petrochemical Plant
– Strategies to attract investment into equatorial guinea
– Economic diversification: New partnerships and initiatives between international and national investors
– Gas hub opportunity
– Trading and global LNG markets for Equatorial Guinea's gas and LNG
– Developing National Content and a network of national companies along the oil & gas value chain
– Human resources capacity building