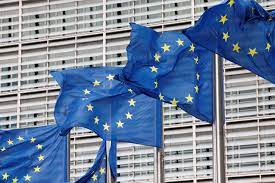 Brussels — Europe will require investments of more than 700 billion euros ($762.44 billion) a year to meet its energy transition goals to combat climate change, the European Union Commission said on Thursday.
"Overall, additional investments of about 620 billion euro ($675.3 billion) annually will be needed to meet the objectives of the Green Deal and of our REPowerEU plan, with an additional 92 billion euros needed to address the objectives of the Net-Zero Industry Act over the 2023-2030 period," it said in a statement on its 2023 Strategic Foresight Report.
The EU's Net-Zero Industry Act, announced in March, aims to boost Europe's manufacturing in net-zero technology products under the broader Green Deal Industrial Plan to counter massive subsidies by the United States and China.
The foresight report is an analysis of the EU's ability to meet its goals. EU Commission chief Ursula von der Leyen has made de-carbonising the EU economy a centrepiece of her tenure through the Green Deal that includes an array of new legislation that will upend decades-old supply chains and rules governing all sectors.
EU Commission vice president Maros Sefcovic told a press conference that Europe needs to shift to be a "Europe of investments" in order to achieve its goals and to ensure the bloc stays ahead of global competition.
"The European Investment Bank should provide stronger support for strategic investments in key areas such as green and bio tech and raw materials especially for cutting edge projects," Sefcovic added, calling for targeted investment from the public sector including national budgets and EU funding.
With this seismic shift, EU member states have repeatedly voiced concern about becoming over-reliant on imports of raw materials and key parts such as for wind farms from a handful of countries. Major EU companies have also warned that un-aligned and overly complicated EU legislation poses a risk to Europe's innovation.
($1 = 0.9181 euros)
*Julia Payne; editing: David Evans – Reuters
Follow us on twitter