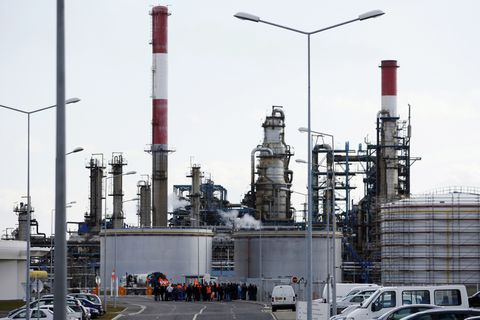 London — European diesel markets are flashing warnings of tightening supply while crude oil markets are weakening after nearly two weeks of disruptions at French refineries due to strike action, traders said.
The industrial action, part of a nationwide movement against planned pension system changes, has led to reduced output at the Normandy and Feyzin refineries while shipments from the Donges and La Mede refineries have also been blocked.
The outages have in recent days led to growing concern that French and regional supplies of fuels, in particular diesel, could tighten in the coming weeks.
In a sign of these concerns, the spread between the prompt and second month ICE low-suplhur diesel contracts rose on Monday to a premium, known as a backwardation, of $35.25 a barrel, its highest since November 2022.
The profit margin for refining crude oil into diesel has jumped by nearly 40% over the past month.
That followed weeks of rising inventories in northwest Europe as traders rushed to fill storage tanks in the run-up to a Feb. 5 EU ban on Russian fuel imports.
"The diesel market flipped from feeling long and heavy to short and very backward," one trader said.
France's diesel and gasoil imports have dropped to 173,000 barrels per day (bpd) so far this month, down 50% from February and from March 2022, preliminary data from analytics group Kpler show.
In the absence of Russian diesel supplies, Europe has sharply increased imports from Asia, the Middle East and the United States in recent months.
Diesel supply in the region is expected to tighten significantly by April, three trading sources said.
CRUDE TUMBLES
France's refineries processed around 1 million barrels per day of crude oil in January, roughly 8.4% of Europe's total throughput, according to the International Energy Agency.
The strike action has impacted crude deliveries and reduced French buying interest.
France's crude and condensate imports have averaged just 550,000 barrels per day (bpd) this month, down by almost 50% from the previous month, Kpler crude analyst Johannes Rauball said.
"The import decline has seen the country rely on its inventories, with crude stocks easing by 11% since February," Rauball said.
Prices of North Sea and Nigerian crude grades have dropped as a result of the strike action.
"WTI cargoes for May delivery compared with April are down by $1.50-$2/bbl, because of that, North Sea is having to price lower to compete," one trader said.
The Ekofisk North Sea crude grade, produced at a field in Norway where TotalEnergies has equity, relies on France for two-thirds of its export stream, Rauball said.
No Ekofisk cargoes have been discharged in France this month, Kpler data show.
Ekofisk differentials to dated Brent on Friday hit their lowest since January 2022.
Meanwhile, prices for crude grades from Nigeria, one of France's top suppliers, have dropped by around $1/bbl in the past two weeks, traders said.
"It's a buyer's market, with WTI and Azeri crude offered way down to sell," a trader of West African crude said.
*Ron Bousso, Rowena Edwards, Ahmad Ghaddar & Noah Browning; editing: Jason Neely – Reuters
Follow us on twitter