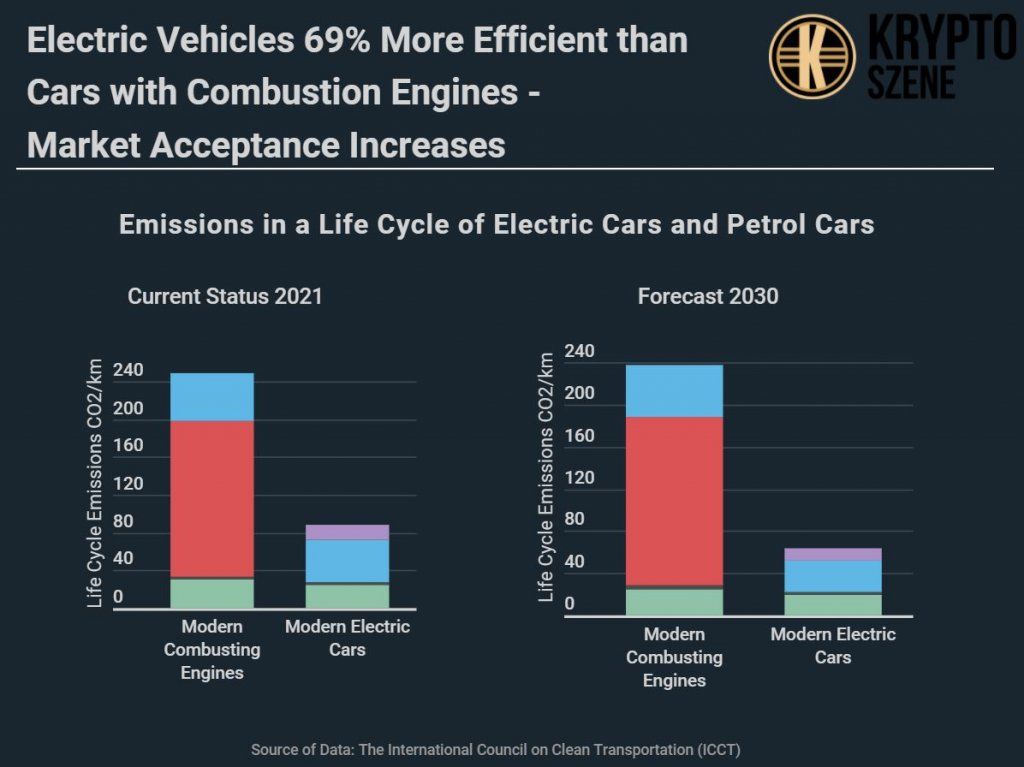 *Market acceptance increases
*69% less CO2 emissions of Electric Cars than modern combustion engines
*190,000 new electric car registrations in Germany
*Tesla Model 3 most popular electric car
Lagos — The electric car market's prospects are looking brighter than ever. A new infographic from Kryptoszene.de now reveals that electric vehicles are more environmentally friendly than conventional cars. Even today, the life-cycle emissions of purely electric cars are up to 69% lower than those of modern combustion engines.
Lower Emissions and More New Registrations
According to the infographic, the average new petrol car in Europe today emits around 250 g CO₂/km when including manufacturing, maintenance, fuel consumption and fuel production. By contrast, electric cars produce around 80-90 g CO₂/km, including battery production. Electro mobility should be able to reduce its CO2 footprint even further in the coming years.
While considerable reservations about electric cars in Germany remain, the number of new vehicles on the road is rising quickly and steadily. As displayed in the infographic, more than 190,000 electric cars were purchased in Germany in 2020 alone. By comparison, the figure in 2018 was a mere 36,000.
Share Prices Rise Despite German Scepticism
Major electric car manufacturers' share prices also speak for themselves: demand, acceptance and willingness to buy all are on the rise. Over the last few years, Tesla alone has consistently generated extraordinary returns for its investors. But other sectors, such as the hydrogen sector or the solar sector in particular, are also benefiting from greater concern for the climate and the search for greener alternatives with lower CO2 emissions.
However, there remains considerable scepticism about electric cars, especially in German-speaking countries. The graphics show: it is above all range and the lack of charging stations that keep many people from opting for an electric car. Yet here, too, the manufacturers are busy improving: even today, a new electric car has an average range of 400 km. The front-runners, such as the Tesla Model S, can drive over 600 km before they have to be plugged in.