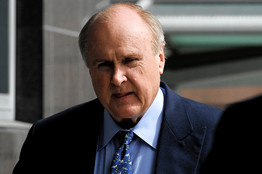 24 February 2012, Sweetcrude, HOUSTON – A former chief executive officer of KBR Incorporated, Albert "Jack" Stanley, was sentenced to 30 months in prison by a US court on Thursday for his role in the massive, decade-long Halliburton bribery scheme in Nigeria.
Top Nigerian government officials were, under the scheme, allegedly offered bribes totalling $180 million by Halliburton, a US oil services firm, to enable it win $6 billion Nigeria Liquefied Natural Gas (NLNG) contracts.
Stanley, 69, who pleaded guilty in September 2008 in the scheme, has been awaiting sentencing after this date was reset 16 times.
"The misconduct here was serious, ongoing and deeply hurtful," U.S. District Judge Keith Ellison said before handing down Stanley's sentence, which also includes 3 years of probation.
Earlier Thursday, Ellison gave a former KBR consultant a 21-month prison sentence for acting as a middle-man to channel bribes to Nigerian officials on behalf of KBR and three other members of a Portugal-based consortium called TSKJ.
Jeffrey Tesler, 63, a consultant and lawyer, pleaded guilty almost a year ago to one count of conspiracy to violate and one count of violating the bribery law known as the Foreign Corrupt Practices Act (FCPA).
Despite fighting extradition from Britain, Tesler was sent to the United States in March 2011, where he entered a guilty plea. He faced up to five years in prison on each count and had already agreed to forfeit almost $150 million as part of his plea agreement.
On Wednesday, Judge Ellison sentenced another Briton, Wojciech Chodan, to probation for taking part in the bribery scheme when he worked at a unit of KBR. He had cooperated with the investigation.
Both Stanley and Tesler expressed remorse for their actions. Stanley said his judgement had been clouded by "ego, ambition and alcohol" and said he cooperated with the Justice Department since 2004.
Stanley's lawyer, Larry Veselka, called him "the most effective and cooperating witness in U.S. history" in helping to pursue FCPA violators.
Government officials said Stanley mislead federal investigators for four years before he fully revealed the details of the case. However, the U.S. government agreed to cut Stanley's proposed sentence in half – to 42 months from 84 months – based on his cooperation.
"He knew he was in a lot of trouble before he started cooperating, right?" Ellison asked.
"Mr. Stanley wasn't a whistle-blower by any stretch," said government prosecutor Patrick Stokes. "Mr. Stanley was the leader of a gigantic fraud."
KBR was previously a unit of oil services firm Halliburton but was spun off in 2007 and in 2009 agreed to pay $579 million to settle bribery allegations.
Kellogg Brown & Root LLC, the former engineering subsidiary of Halliburton Co, pleaded guilty in 2009 and admitted that it paid $180 million in bribes to Nigerian officials to win the $6 billion in contracts for the Bonny Island LNG project in the Niger Delta. Partner companies from Italy, France and Japan were involved.
The bribes – some delivered in a briefcase stuffed with $100 bills – were paid to officials in Nigeria's executive branch as well as the state-owned Nigerian National Petroleum Corp, the U.S. Justice Department has said.
At various points, huge sums of money were wired through banks in Amsterdam and New York to accounts in Monaco and Switzerland.