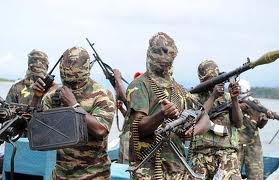 Emma Amaize
20 December 2011, Sweetcrude, WARRI- FEAR gripped residents of Warri, Effurun, Ughelli and environs in Delta State, yesterday, following reports that suspected ex-militants and cultists have regrouped to foment trouble in the state.
The hoodlums were said to have been recruited by some disenchanted politicians, one of them a former political officer holder, who was dropped by Governor Emmanuel Uduaghan from his cabinet, some months ago, for irreconcilable differences.
A security report obtained by this reporter hinted that the plot to make Warri, Effurun, Ughelli and other cities ungovernable for Governor Uduaghan is tagged, "Mandate Thief Operations" and that for the past two weeks, "A coalition of various cult group leaders and some disgruntled elements have been converging in Warri, using the death of the former governorship candidate of the Citizens Popular Party, CPP, Chief Ogbe Onokpite as a camouflage".
In a Short Message System, SMS, which was circulated to some Deltans, yesterday, an informant squealed, "They are to hit various sensitive spots and blame the security agencies and the government, especially the police. This is to put pressure on the police headquarters to make changes that will be in their favour".
Suspect charged to court
Meanwhile, Malick Okorokporo, the suspect, who confessed that he was recruited by Chief Onokpite to deliver two AK 47 rifles to one Collins Egbara, chairman of Agaga community in Delta State, was arraigned before a Chief Magistrate Court in Otor-Udu, Udu Local Government Area of Delta State, Monday, for conspiracy and unlawful possession of firearms by the police.
Activist denies plotting against Uduaghan govt
Also, a human rights activist and solicitor, Oghenejabor Ikimi, has debunked an allegation that he presided over a meeting of some members of the opposition to
Addressing newsmen in Warri, he said, "My attention has been drawn to the contents of a false SMS message being circulated by some faceless and idle persons in various GSM networks as follows"
"Security 2: Prior to the killing of Ogbe, the 3 operators of the operation "MANDATE THIEF" were (names withheld). They met in several hotels but used Beeland Hotel, Udu as operational base. After Ogbe's death, Gibson & Napoleon meet regularly in Tegatin Hotel. One of such meetings was chaired by Barr. Oghenejabor Ikimi on Wed 7th Dec at night. The operation is to make Delta State ungovernable. The structure of the operation will follow soon".
"I vehemently deny and debunk the above claim and wish to dissociate by humble self from membership of the above group. Furthermore, I make bold to state that I have never met (names withheld) all my life nor have I ever been to Tegatin Hotel.
"I met (names withheld) a colleague of mine, last in the year 1998 when he was campaigning for the Uvwie Constituency seat of the Delta State House of Assembly, thus I did not chair any meeting anywhere with the above persons or their privies under any guise to destabilize or cause disaffection or confusion in Delta State on Wednesday 7th December at night or any date for that matter as I had no cause to so do", he asserted.
"I, in my capacity as the national coordinator of the Forum for Justice and Human Rights Defence had cause like every other concerned Deltan to issue press statements condemning the extra judicial murder of Chief Ogbe Onokpite by the Police and also the spate of armed robbery and kidnap incidents in Delta State and the need by the police to employ proactive measures in curtailing same, hence I urge Deltans to ignore the said text message as same is the handwork of some faceless and idle persons trying to cause fear in the State and to intimidate, harass and embarrass my person as my press statements and the activities of the forum , an NGO and a human rights organization are not a threat to either the Delta State Government or the Federal Government," Ikimi said.