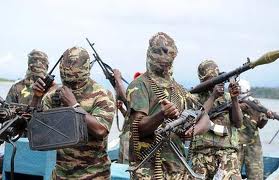 Emma Amaize
14 June 2012, Sweetcrude, WARRI—AN alleged secret arms deal between ex-militants in the Niger-Delta region and an international oil mafia has been uncovered.
To test run some of the newly-acquired weapons, which came in huge supplies, the ex-militants, allegedly on Monday, bombed a crude oil trunk line, linking Tunu/Cluph creeks flow stations to Warri in Delta State at 7am.
The affected trunk line belongs to Shell Nigeria Exploration Production Company, SNEPCo, at Tuomo, Delta State.
Spokesman of Joint Task Force, JTF, codenamed Operation Pulo Shield, Lt. Colonel Onyema Nwachukwu, told Sweetcrude, when contacted, on Tuesday, that some soldiers reported that there were gunshots somewhere, but the facts had not been established.
Corporate Media Relations Manager, Shell Nigeria, Mr. Tony Okonedo, told Sweetcrude that the company was still checking and would get back to our reporter.
It was gathered that the underground treaty between the ex-militants, who are among those protesting their non-inclusion in the post-amnesty programme by Federal Government and some foreign crooks from South America, involves barter of stolen crude oil for arms and ammunition.
Meanwhile,  National Coordinator of the Ijaw Monitoring Group, IMG, Mr Joseph Evah and a conflict management expert in the region, Prince Clement Bebenimibo, Tuesday, urged the Nigerian government to include them in the amnesty programme, rather than allow them again cripple oil installations in the region.