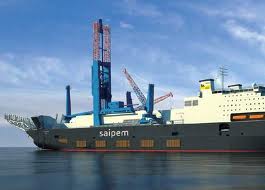 07 August 2013, News Wires – A former manager of Italian oil service group Saipem, who is at the centre of a bribery probe relating to Algerian gas contracts, has been arrested, his lawyer said on Tuesday.
Pietro Varone, the former head of Saipem's engineering division, was arrested on 28 July, lawyer Alessandro Pistochini said on Tuesday, confirming a report in newspaper Corriere della Sera.
Saipem is 43% owned by state-controlled Eni, Italy's largest listed company and the leading foreign energy operator in Algeria.
Varone was one of several Saipem and Eni senior managers to resign last December as a result of an investigation by Italian prosecutors into allegations that Saipem paid bribes to win a series of contracts from 2007 to 2010 worth around 8 billion euros ($10.6 billion).
Pistochini said on Tuesday Varone "gave a contribution to the investigation and admitted his role in certain operations."
Eni Chief executive Paolo Scaroni is also being investigated as part of the probe.
Eni, Scaroni and Saipem, Europe's biggest oil services group, have all denied wrongdoing.
Both Eni and Saipem have important contracts in Algeria, which supplies Italy with about 30% of its natural gas.
Pistochini and two people with direct knowledge of the investigation, who have all read Varone's arrest warrant, said the order also called for the arrest of Algeria-born Farid Noureddine Bedjaoui.
Prosecutors accuse Bedjaoui of channeling nearly 198 million euros in bribes for Saipem to officials in Algeria via a company called Pearl Partners Limited.
In the arrest warrant, according to Pistochini and the sources, prosecutors said they had identified a large part of the bribes and had asked that "more than $100 million" in accounts based in Singapore and traceable to Bedjaoui be blocked.
Reuters was unable to contact Bedjaoui.
Varone was one of Eni and Saipem's main interlocutors with Bedjaoui, according to a search warrant issued by prosecutors on 6 February and seen by Reuters.
The Algerian contracts at the centre of the probe had not been picked up by the audit committees and internal control systems of either Eni or Saipem, the prosecutors said in the arrest warrant, according to Pistochini and the two sources.
Prosecutors referred to "the silence maintained by the management at Saipem and Eni with regard to their own internal control bodies," it added, according to the lawyer.
"For certain the intermediation contracts between Saipem and Pearl Partners were simply a documentary cover to allow the siphoning off of money from Saipem," Pistochini and the two sources cited from the warrant.
An Eni spokesman said the company had very strict internal control systems based on best international practice.
"With regard to Saipem, which as a listed company has its own control systems, Eni became aware of the alleged irregularities only at the end of November 2012 and immediately took action in its role as significant shareholder," the spokesman said.
A spokeswoman for Saipem declined to comment.
Some analysts are concerned the Algeria probe could lead to a fine for Saipem. The oil service group recently acknowledged the U.S. Department of Justice was also looking into the Algerian case.