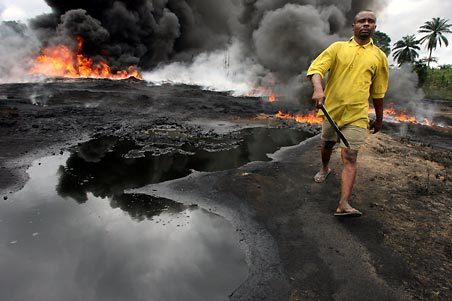 03 March 2013, Port Harcourt – Toxicologists in West Africa have warned against uncontrolled environmental pollution in the Niger Delta, blaming rampant cases of bareness among women under the productive age bracket on oil and gas pollution among others.
The West African Society of Toxicologists, WASOT, which converged at the University of Port Harcourt to discuss the "Global Understanding of Chemicals in Health, Diseases and Economics," in the region tasked governments in the region to lead a revolution on affirmative action against increasing health hazards posed by environmental pollution in the area.
The conference, which attracted over 200 experts, met between February 20 and 23, 2013 but their communiqué was released yesterday.
The experts, in the study of poisons and their harmful impact on man, said: ''We are being faced with a situation where our young girls and women are increasingly experiencing barrenness or having deformed or abnormal children when they are able to give birth," in the summary resolution adopted after the conference.
Expanding public knowledge on toxicology at the event, Prof. John Anetor, a Pathologist from the University of Ibadan, said from birth to death, endless exposure to industrial emissions of mercury, cadmium, acids, and drugs as well as toxins from food and other natural agents cost man serious health repercussions of lethal consequences.
In his summation, President of WASOT, Prof. Orish Ebere, said the developing world was exceptionally vulnerable due to ineffective regulations and poor mitigating capacity, adding: "In Nigeria, it is even far grimmer for people living in the Niger Delta for obvious reasons of closer exposure to devastating pollutions from oil and gas operations''.
*Emeka Mamah & Egufe Yafughorhi, Vanguard