Lagos — ExxonMobil and Apple, two prominent companies, experienced contrasting market fortunes in 2022. While the oil and gas behemoth gained the most market value, the Cupertino-based tech giant registered the biggest loss, reveals the Company Profiles Database of GlobalData, a leading data and analytics company.
ExxonMobil has reportedly gained a whopping $195.2 billion to reach a market cap $454.2 billion. In contrast, Apple saw the biggest loss of over $846 billion to end 2022 with a market cap of $2.1 trillion.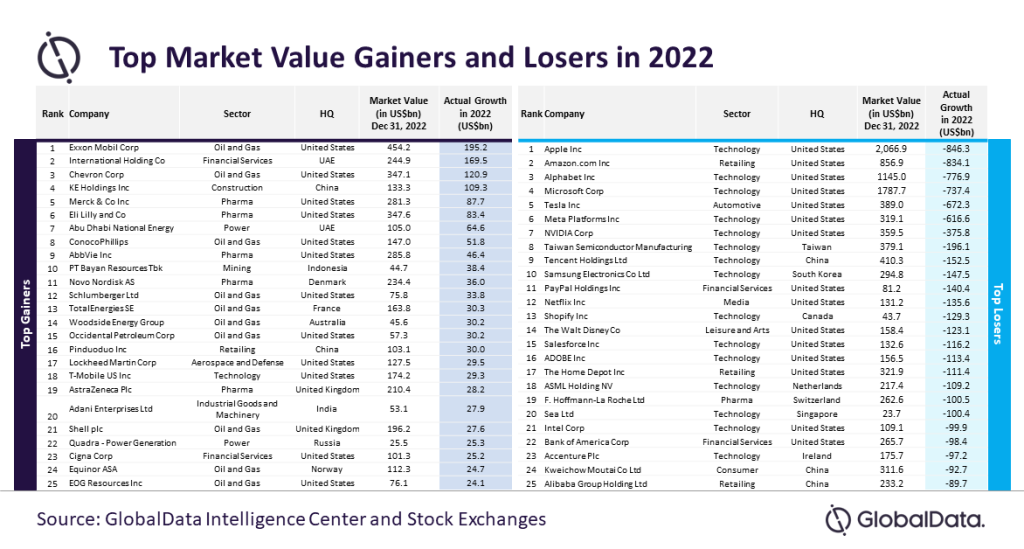 Murthy Grandhi, Company Profiles Analyst at GlobalData, comments: "ExxonMobil stock was positively influenced by high oil and natural gas prices, and the subsequent windfall earnings. On the other hand, Apple's stocks were plagued by production issues, and macroeconomic factors such as rising interest rates, and high inflation that impacted customer purchasing power."
Other top gainers include International Holding Co, Chevron, and KE Holdings, which collectively gained a market value of more than $100 billion.
Cyclical natured semiconductor and chip companies such as NVIDIA, Taiwan Semiconductor Manufacturing Company, and ASML lost significant market value due to the decline in demand from technology clients on the back of high inflation and rising interest rates, and fears of collapsing demand for chips.
Of the 25 companies that lost the most market value, 15 were from the US, with eight players from the technology sector. Technology giants lost billions of dollars on the back of rising interest rates, high inflation environment, fear of recession, and lay-offs.
Grandhi continues: "A strong US dollar impacted American multinationals, particularly the tech companies, as it resulted in lesser money from their international operations."
Chinese tech giant Tencent, whose market value decreased by almost $152.5 billion, was significantly impacted by Hong Kong stock market liquidity issues, Internet industry regulations, huge shareholder reductions, and the company's own subpar growth.
Notable non-US market value losers were Samsung Electronics, e-commerce platform Shopify, and F. Hoffmann-La Roche, which collectively lost more than $100 billion in 2022.
Grandhi concludes: "Samsung Electronics experienced a decline in market value due to a decrease in global smartphone shipments and chip demand, as well as poor earnings and negative forecasts, which were exacerbated by a significant sell-off by the company's institutional investors.
"The dramatic shift in consumer behavior towards offline shopping after the COVID-19 pandemic threat subsided, along with supply chain issues and inflation, led to a $129.3 billion loss in market value for Shopify.
"It is expected that global markets are going to remain volatile in 2023 considering several factors at play including inflationary pressure, increase in interest rates, and global geo-political situations."
Follow us on twitter