…NCDMB warns against single sourcing, selective tendering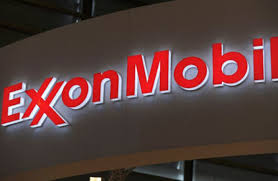 Oscarline Onwuemenyi
12 July 2017, Sweetcrude, Abuja – Managing Director of ExxonMobil Nigeria, Mr. Paul McGrath, has admitted to Nigerian Content violations by the oil giant, but, agreed that compliance with the provisions of the Nigerian Content Act was a legal and moral obligation for operating and servicing oil and gas companies in the country.
He also said that compliance with the Act was a good strategy for improving profitability and sustainability of operations.
McGrath made the admission of guilt while speaking when he received the management of the Nigerian Content Development and Monitoring Board, NCDMB, led by the Executive Secretary, Engr. Simbi Wabote.
He said his company had defaulted in complying with some provisions of the Act in the past, assuring, however, that ExxonMobil would henceforth comply with all provisions of the Act alongside associated regulations.
McGrath, who was appointed in March 2017, said ExxonMobil will collaborate with the Board to achieve its mandate and that "together we can transform things."
He added that the company would also seek the Board's guidance and assistance when faced with difficulties and exigencies of business. "The new leadership has zero tolerance for Nigerian Content violations and non-compliance issues. If we must do, we have to first discuss with NCDMB for guidance."
He also underscored the collaboration ExxonMobil had enjoyed from the NCDMB overtime, which contributed to the company's successes.
The managing director pledged his company's total support for the Board's initiatives, stating that it is open to staff exchange between the two organisations and is working to open a liaison office in the Board's new headquarters when completed in Yenagoa, Bayelsa State.
In his presentation, Engr. Wabote explained that the visit was in line with the Board's efforts to encourage and support operating companies to introduce and execute new projects needed to sustain and grow Nigerian Content in the oil and gas industry.
He reiterated the Board's determination to shorten the industry contracting cycle, which informed the adoption of definite timelines for statutory approvals and pioneering the development and use of Service Level Agreements, SLAs.
The first SLA was signed between the Board and the Nigerian Liquefied Natural Gas Company, NLNG, and it commits the parties to comply with Nigerian Content Act and timely approvals of documents respectively. The model will soon be replicated with other operating companies.
Wabote also advised ExxonMobil to begin early to engage the Board on the development of its Owowo field to enhance utilisation of in-country capacities.
The Executive Secretary cautioned operating companies against engaging in single sourcing and selective tendering, stressing that reasons for such must be justifiable and discussed with the Board ahead of execution. He also warned companies against irregular spot hiring and utilisation of vessels under the guise of emergency.