19 January 2015, Lagos – Chief executive officers, senior executives of oil and gas companies and former executives of the Nigerian National Petroleum Corporation, NNPC, weekend, said the Nigerian economy will degenerate into a serious crisis unless something urgent was done to safeguard the country from the shock of the falling crude oil price.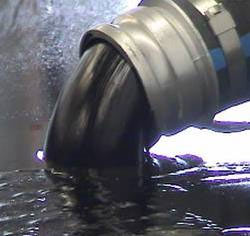 The executives also called for the scrapping of the NNPC, stating that the corporation is no longer making any meaningful contribution to the oil and gas sector.
They disclosed these at a symposium to mark the 80th birthday of Chief Festus Marinho, a former Group Managing Director of the NNPC in Lagos.
Economic forecasts gloomy
"Economic forecasts are gloomy, interest rates will go up, oil investments will go away, international and indigenous oil companies will have problems, workers will be laid off and unemployment will sky-rocket, among others," said Mr. Bunmi Obembe, Executive Director, Oil and Gas Commercial, Total Exploration and Production, Nigeria.
Obembe said the woes of the oil companies started since the beginning of 2014, stating that despite the fact that oil prices were high then, the oil companies had to adopt belt-tightening measures, because the prices were not rising at par with extractive cost.
According to him, "oil companies were not in very good shape in the beginning of 2014, extractive cost was rising at 10 per annum, and oil prices were not rising at par with the costs, causing us to adopt belt-tightening measures."
He further stated the risks and vulnerability of the oil companies as well as the Nigerian economy had been aggravated by the continuous decline in the prices of crude oil and could throw the economy into turmoil.
He attributed the price slump to consumer absorptive capacity, outcome of the 2008 global economic meltdown, which led to the United States putting in place a quantitative easing programme and China's intrinsic control of the infrastructure sector.
He warned: "The oil price might possibly stay low for a very long time. In this case, only innovation will help reposition the Nigerian oil sector and also grow the economy."
Rising unemployment
Speaking in the same vein, Mr. Austin Avuru, Chief Executive Officer, Seplat Petroleum, warned that Nigeria was at risk of rising unemployment unless something drastic is done.
He blamed Nigeria's woes on government control of the sector, low refining capacity and a virtually non-existent buffer, like the Sovereign Wealth Fund, SWF, to serve as a cushion during international economic and price fluctuations.
He said: "Some members of the Organisation of Petroleum Exporting Countries, OPEC, and other non-OPEC oil-producing countries, have played their game very well. They have been able to save for the rainy day through their Sovereign Wealth Fund and other financial buffers.
"Today, these countries, such as the Saudi Arabia, can afford to sell their crude oil with zero profit for the next three years because they have cushions, while Nigeria is looking, doing nothing and feeling the brunt, because it has only about $500 million in its Sovereign Wealth Fund."
He further stated that for the Nigerian economy to be safeguarded from the next cycle of crude oil price decline, the country must be able to refine half of its total crude oil production among other measures.
Membership of OPEC irrelevant
Also speaking, Mr. Ibrahim Waziri, Chairman, Transmission Company of Nigeria and former Executive Director, Corporate Services, NNPC, said the role of government in the oil and gas sector needs to be changed, adding that government's role has reached a diminishing return.
He said: "Our continued membership of OPEC is irrelevant. It is more of emotional sentiment than common sense. Our membership of OPEC is more of an ego trip, it is completely distracting."
In his submission, Mr. Lawrence Amu, former Group Managing Director of the NNPC, lamented the fact that Nigeria's revenue is not been used for development but for consumption, adding: "What we consume do not reproduce."
Privatisation of refineries
Another former Group Managing Director of the NNPC, Mr. Funsho Kupolokun, calls for the privatisation of the countries refineries.
He, however, disagreed with calls for Nigeria to pull out of OPEC, saying: "If Nigeria pulls out, others might pull out also and this might bring crude oil price to around $9 per barrel.
Also speaking, Mr. Odein Ajumogobia, former Minister of State, Petroleum, said the already dwindling fortunes of the Nigerian oil and gas industry had been worsened by the declining crude oil prices.
He said: "But the fall in the price is really no surprise. During the past 57 years of crude oil exports, Nigeria has always been exposed to and risked the prospect that oil prices could change rapidly, unpredictably and substantially.
"No mitigation measures other than our membership of OPEC have ever been in place despite our mono economy for most of that period and with the potential calamitous consequences for the national budget, mitigated only be reduced expenditure, debt or both.
"The constitutionally questionable excess crude account established during the Obasanjo administration and the Sovereign Wealth Fund more recently created, with a stabilisation component have been the first real efforts at mitigation."
– Vanguard