Emma Amaize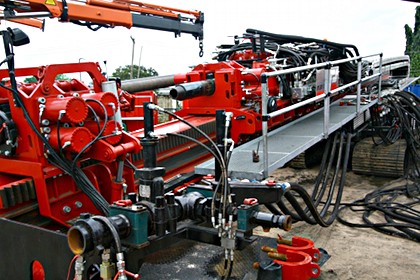 First in Africa
EFFORTS to ensure a more efficient refined and unrefined products distribution network and indeed, put an end to pipeline vandalism in the oil and gas industry, have received a major boost with the acquisition of a $40 million dollar Horizontal and Directional Drilling, HDD, Rig by an indigenous Nigeria oil service company, FENOG Nigeria Limited, based in Warri, Delta state, Niger-Delta.
HDD Rig, also known as PD 500 is the latest and biggest of such machine in the world and by the feat, FENOG is now the biggest and largest HDD company in Africa, the fourth largest HDD company in the world and the first ever to achieve a 1.7km River Crossing (Escravos River Crossing)."
A director of the company, Mr. Matthew Tonlagha who disclosed this to Vanguard said, "The PD 500 is a modern, reliable technology designed for deep (6m- 70m) installation of pipe line telecommunication lines and heavy duty cables without trenching over roads, railways, rivers and even across facilities, and without damages or disturbances to traffic or usage of these facilities."
"Apart from the two PD 250 HDD Rigs already in our stock, we have just imported the latest in the stock of the HDDs, the PD 500 which is capable of drilling and laying up to 5.5km per stretch of pipes measuring between 6 to 70 inches in diameter up to a depth of a maximum of 100meters," he said.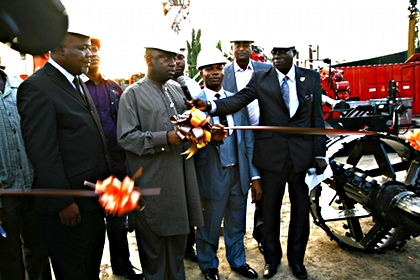 "The PD 500 will send vandals out of business because they cannot have access to the pipelines as they are completely out of their reach. We acquired it at this time because we are growing up in technology and people have the feelings that Nigeria cannot do it better. We need to let the Federal Government know that some of these major projects that are given to oil majors can be handled by FENOG Nigeria Limited and that was why we started with the PD 250, which we have used to cross a lot of rivers."
The FENOG director further said, "It is not just this PD 500 that we have acquired. Fenog has also recently and aggressively moved into shallow and Deep Water operations by its acquisition of "Akpevweoghene Derrick Lay Barge", meant for the construction of platforms, heavy lifting and laying of pipelines in both shallow and deep waters. This barge is expected in the country about three weeks from now."
"We are investing so much in equipment because we trust President Goodluck Jonathan, the Petroleum Minister, Mrs. Diezani Alison-Madueke and the Local Content Secretary, Engr. Ernest Nwapa, we trust all of them because we know that they can deliver and they have given us hope that the Local Content Law will work."
The FENOG boss also explained, "With the PD 500, one person cannot benefit again because the issue about oil bunkering, blowing up of pipelines and flow lines is not acceptable to the PD 500 Technology. And I am suggesting that we should use this latest PD 500 to bury up all our pipes."
We congratulate FENOG – Engr Nwapa
Executive secretary of the Nigeria Content Development and Monitoring Board, Engineer Ernest Nwapa, who visited FENOG, last week, to inspect the fabrication yard and facilities, told newsmen after a tour of the expansive facility, straddling about 40 hectares, "What I simple want to do is to congratulate FENOG as a company and to congratulate Mathew and Zenith Entrepreneur and say that Nigerians should really be proud that things like this are happening in the country".
"I know that 18 years ago it would not have been possible and attractive for a Nigerian to go out and say he wants to buy this kind of equipment because he will run out of business before he even starts. But I thank God that with the new vision of the President, Nigerians can now bold say we want to participate, not as agents, not as leasers and borrowers of equipment, but as owners of equipment. So we thank God and congratulate the company over and over again", he said.
It' will transform Nigeria
"One of the reasons we decided to come out here is to show that this thing about Nigerian content is real and it has come to stay. And it is not just a Nigerian content, but it will ensure that the law is followed. For most of us, who have a lot of opportunities in our hands, we need to see and be convinced that Nigerians are now getting serious to get in there and be part of the system. And this technology is cutting edge as you can see from the demonstration the company is keeping up with technology. The last equipment that they had is equipment that was so technologically advanced, but nothing compared to what they now have, which is a self loading, automated and self monitoring. It is a kind of system that Nigerians will use to transform its pipelines system. As we all know most of the pipelines across the country, especially in the Niger Delta were laid decades ago. Some of them are 30 years old. So while FENONG is focusing on all these new pipeline construction jobs, there are still new jobs that we have not even seen because the oil and gas industry will really have to look into the decaying and aging pipelines and what is work opportunity.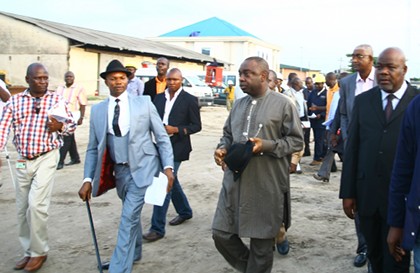 "At the end of the day what the board and indeed, President Jonathan is looking for is the opportunity to employ Nigerians. And in the oil and gas industry, the first priority is to make sure that the input from this oil and gas industry are sourced from Nigeria, both the human resources, materials and goods. So manufacturing is an issue we are confronting squarely. Equipment that is brought into the country must now begin to have their components made in Nigeria. That is the new direction the board is pursuing. What FENONG and many industries require to go through is to make sure they have work and there is a frame work for that. And what I can reassure you is that the Minister of Petroleum Resources, Mrs Alison Dieziene Madueke, has directed me as the Executive Secretary of the board to come up with strategies, with incentives and programmes that will make sure that Nigerians invest in the oil and gas industry, as well as foreigners.
"Clearly, when foreigners partner with Nigerians and do things in accordance with the law, the industry provides and guarantees work opportunities for them to have work. Therefore I want to assure you that the honourable minister is fully behind your effort and when I go back, I am going to report to her that we have a wonderful capacity and we must work to give you opportunity to get work in this facility. I think that what we are seeing here today is something that can only grow bigger because of the tenacity of your chief executive I do not think that he will relent", he stated.
According to him, "The thing that gives us confidence that this Nigeria Content Programme of President Jonathan would be sustained is that Nigerians are using their hard- earned money to buy this equipment and if you spend money to buy equipment, I don't think anybody will tell you to keep your equipments idle, while we use equipment owned by foreigners. That is something we do not apologize for because Nigerian government had taken a firm decision that Nigerians must play a role in this industry, and that indigenes of the oil producing communities should be seen as being part of the business in the oil and gas industry and there is nothing less that you can expect from the board".
Can you tell us the assessment of what you have seen here?
This is amazing and it is something Mathew has been telling me about and I did not know that it has gone this far. This is a facility that is located at the Warri River, close to the harbour and I did not know that they had so much going on here. What we want to see is a plan for getting it off the ground, a plan to get to work. There are things for you to do, there are things for the government to do and there are things for the community to do. You know what we suffered in this area is lack of confidence that investors can come. Put money and get returns from it. Now, indigenes and members of this community are putting their own money and I believe that this investment is safe. So what people like Mathew want from us now is to help drive the industry to begin to use this facility and that is why we came here, not only as the Nigeria Content Board, but with people who are in facility and procurement departments from the oil companies, and we are supposed to see some of these things to know if they are really happening and not just something like story telling.
And you know with computers these days, you can model something and show it like a picture. But now, we have seen and we can touch and feel it. We can even imagine how this place was before the sand filling and this is a lot of work. We have also seen the design and what we need to do is to back and continue to work with you and see how we can demonstrate that with efforts from both sides that it can become a reality.
How can the board get the oil companies to patronize these people?
The pressure has already started. I and Mathew were not smiling a few days ago. We were quarrelling and that is pressure. My job is to mount pressure on operators to use facilities in Nigeria, and as we sit now, we are designing strategies that will come in a way that if an investor puts a substantial investment in Nigeria, government will give incentives. And most of the incentive most people need is guarantee of work. In my discussion with Mathew, he has not asked us to give him loans nor any grant. He is saying to us, bring these people to give me work because I have the equipment to work and that is what the board is going to work with.
How are you going to demonstrate that this law is meant to bring people to bring investment here?
If you go to Warri Refinery to seek for employment, you may not get more than ten or twenty. So also if you go to Shell or Agip, but in this place, with the kind of facilities we have, how many people do you think will be employed here? It will employ more than three hundred in the beginning. We know that government is really interested in making people get work. And if somebody comes out to put this up, we have nothing do other than to support them.
Oil majors are now hiding under the local content, so how do we check this?
I do not think the oil majors are hiding under local content because the oil majors have seen that Federal Government has put the law to make sure that work is done in Nigeria because if you do not have a place to do work in Nigeria, there is a problem. So if people are putting things together, then we have no excuse. We need to bring these stakeholders together and that is my job so that they can come together and have a nexus.
You coming here to see things for yourself, is it a new style of President Jonathan
I think the President has demonstrated that he wants to see people who understand his vision and who want to align with his vision and the need to empower these government officials, including my office, to go on and do that which the law says. And the best way to do that is to appreciate. Come and put your feet on the ground and see for yourself, and as we go along, you will see the manifestation of this style and that it will yield to results.
Considering that your office is in Abuja, how effective will your monitoring will be on ground ensure that things are done according to law?
My office is in Yenagoa and I have a coordinator for the board here in Warri. We have an office here in Warri. We are on ground for the past one year and by the time we are two year old, you will not be asking that kind of question.