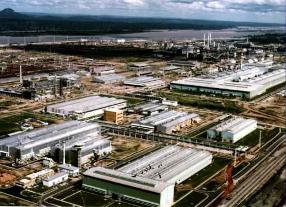 24 May 2013, Abuja – The Federal Government has recovered the moribund Ajaokuta Steel Complex in Kogi State from Global Steel Holdings Limited, the chairman, Senate Committee on the Federal Capital Territory, Senator Smart Adeyemi, has revealed.
The development is coming six years after the company, which was handed over to Global Steel during the administration of former President Olusegun under the privatisation programme of the Federal Government, became non-functional.
Senator Adeyemi, representing Kogi West in the Senate, expressed belief that the development would bring the moribund company back to life and provide employment to atleast 10,000 people.
"The Federal Government has recovered the Ajaokuta steel complex from Global Steel and with that more than 10,000 workers would be gainfully employed," he told newsmen in Abuja.
Adeyemi continued: "I think the return of this complex is worth celebrating. The government of President Jonathan is worth celebrating. They should be commended for recovering the complex. They have succeeded in recovering Ajaokuta without any attendant financial obligation whatsoever.
"This is a great achievement that deserves commendation, irrespective of political affiliation. The return of Ajaokuta will reduce unemployment and crime. By this singular achievement, it means this government has raised the hope for industrial development in Nigeria
"We got to know that Global Steel asked for $1 billion damages but the concession was illegal and unlawful. I want Nigerians to know that the Federal Government has been in arbitration with the International Chamber of Commerce since the concession was terminated in 2007. The case started in 2008.
"The two plants have not been functioning since they were privatized and I want to let you know that the meeting that resolved the issue was held in Dubai between April 29 to May 1.
"Ajaokuta is at the heart of technological development in Nigeria. If we can get the complex back, then, it means Nigeria's march towards industrialisation has started on a good path. Return of Ajaokuta means that this will change the face of Kogi Stats and hopefully, the northern region.
"The Federal Government may revalidate the concession with Global Steel. I'm happy that the main plant is back to Nigeria."
The government had been locked in arbitration with Global Steel Holdings Limited and Global Infrastructure Limited at the International Chamber of Commerce, London, for the return of Ajaokuta since 2007.
The legal battle began in 2008 when Global Steel dragged the federal government before the ICC, even as Attorney-General and Minister of Justice, Mohammed Adoke led the federal government delegation.
Soon after the plant was sold to Global Steel during the administration of former President Olusegun, allegations of downsizing and asset-stripping becaame rife before it finally shut down operations.
President Goodluck Jonathan had intervened in the matter with Global Steel agreeing to forfeit about $1 billion initially being demanded b it as damages suffered while running the plant.