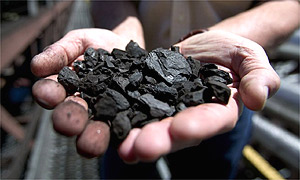 09 July 2013, Abuja – The Federal Government has stated that about 4000 megawatts, MW, of electricity would be realised from Nigeria's proven coal reserve of 639 million tonnes.
Minister of Power, Prof. Chinedu Nebo, made the disclosure while inaugurating an eight-member committee to develop a workable framework that could galvanise long term use of the country's abundant coal resources to improve her power generation capacity.
Nebo stated that as part of government's conscious steps to diversify Nigeria's energy supply mix, the ministry of power has mandated the committee, which is headed by the Director of Power in the ministry, Sanusi Garba, to review the status and adequacy of available studies and project documents relating to the establishment of coal-fired power plants in the country.
The committee was equally expected to examine the impediments and challenges to the development of coal-fired power plants in the country and recommend means of facilitating investment in coal-to-power generation with bankable feasibility studies that could attract private investment into this aspect of power generation.
Describing the task before the committee as very important, Nebo said the renewed effort was expected to reinvigorate the contribution of coal to power generation, adding that unlike most countries with high profile power supply mix, Nigeria's coal-to-power mix has remained dormant for a long time.
"It is refreshing that this ministry is going beyond studies, recorded facts and rhetoric into actualisation as the dream is at the threshold of coming true. This is a special committee because for a very long time now, coal-to-power has been asleep but something has to be done.
"The ministry of mines has been working to ensure that the parameters for exploration of coal are in place to realistically quantify and identify coal deposits in the country. Nigeria is blessed with abundant deposits of coal spread in 13 states of the federation. Significant commercial quantities are evident in a belt spanning Enugu, Benue, Kogi, Nasarawa and Gombe states.
"We are working to ensure that these coal belts can give us 4000MW additional power because no nation can survive on just one source of energy supply, hence, the need for a well balanced energy mix," Nebo said.
He noted that even with Nigeria's proven coal reserves of about 639 MT and inferred reserves of about 2.75 billion tonnes, coal fields were still being mined on skeletal basis, indicating under-utilisation of the country's coal resources.
"For a nation desirous of right energy mix, we must change from the current 70 per cent thermal and 30 per cent hydro to embrace other energy sources, in line with global practice. It has become urgent for the Nigeria to diversify the fuel to power generation, hence, coal provides efficient source of fuel for based-load power plants," he added.
– This Day.