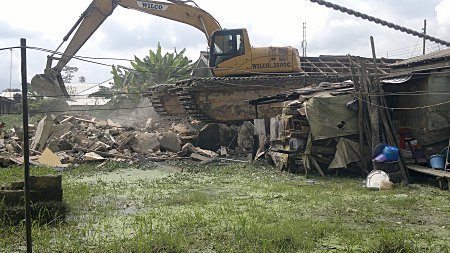 Samuel Oyadongha
Yenagoa – In a bid to tackle the menace of flood ravaging most parts of Yenagoa the Bayelsa State capital after heavy rainfall the state government has embarked on the clearing and demolition of structures on the right of way of the natural canals in the capital city.
Structures erected on the right of way of the natural drainage which bifurcate the Yenizue-Gene and Biogbolo suburbs of the capital erected were yesterday pulled down by the rampaging bulldozer of the Capital City Development Authority (CCDA) under the watchful eyes of armed policemen.
Affected residents watched helplessly as the bulldozer levelled structures that once served as their homes.
The presence of security operatives at demolition site it was learnt was to prevent a repeat of last week incident in which the CCDA bulldozer was prevented access to clearing site and its officials harassed by some youths who allegedly demanded settlement from them before allowing them passage.
This reporter who visited the flood prune area observed that the bulldozer not only brought down all structures including storey buildings on the right of way of the canal but also dug open the already blocked natural drainage.
A stretch of the canal around the Erepa road area of Yenizue-Gene it was observed had been sand filled by land developers with the result that water flowing from Biogbolo axis to Yenizue-Gene is trapped causing serious flood problem for the residence of the area.
An official of the Capital City Development Authority who spoke anonymously said the demolition and pain caused the affected residents could have been avoided had the landlords not encroached on the right of way of the natural drainages that transverse the capital city.
"The state capital is a vast stretch of lowland with several canals serving as natural drainages for rain water but these natural outlets have been blocked over the years by land developers," he said adding that the demolition of the structures on the path of the water course and clearing of the canal will go a long way in draining the area of flood thereby reducing the suffering of residence.
He however failed to respond to question on action being taken on some of the roads recently constructed by the government without functional drainages recourse to carrying out comprehensive environmental impact assessment to determine the course of the water route.
Some of the displaced tenants who spoke to Vanguard reporters said they were not giving prior notice by the CCDA to enable them move out before embarking on the demolition exercise.
But Chairman of the CCDA, Chief George Fente said the exercise was aimed at reducing the flood menace in the affected area.
He decried a situation where land developers deliberately encroach on the right of way of the natural water course in spite of repeated warning from the government.