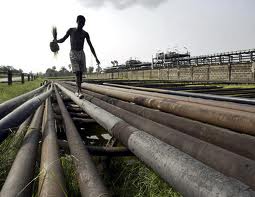 Gabriel Enogholase
31 January 2012, Sweetcrude, BENIN CITY– FOUR persons suspected to have been involved in the vandalism of pipelines at Ikpesi in Akoko-Edo local government area of Edo State have been arrested by men of the State security outfit, "Operation Thunderstorm".
Other members were said to have escaped into the bush during their encounter with the security outfit.
The suspects were arrested when they were trans-loading the crude oil from a brokendown tanker into another tanker at weekend.
Commander of the Operation Thunderstorm, Lt Col. Mustapha Bashir said oil bunkering was becoming too rampant in the state, disclosing that the security outfit has arrested 17 tankers used by vandals in the last six months.
He gave the names of the suspects to include Jimoh Abu, Moses Audu, Elamah idris and Momoh Benedict. The suspects however denied being members of the syndicate.
Momoh Benedict and Elamah Idris said they were both members of the Edo State Pipeline Protection Committee and that they went there that night to investigate activities of the vandals when the soldiers swooped on them.
On his part, Moses Audu said he is a member of local vigilante and that he went there to collect money from the vandals for guarding the broken down tanker the previous night when he was arrested while Jimoh Abu claimed that his vehicle broke down near where the vandals were operating.
Items recovered from the suspects included one generator, locally made single barrel gun, dagger, one Toyota Sienna, one Toyota Hiace bus, and two tankers marked XS 311-LND and XD 453-MAP