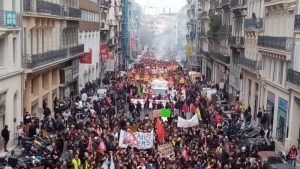 Paris — A nationwide strike in France against pension reform led to a drop in electricity output and stopped deliveries from TotalEnergies sites on Tuesday.
French power supply has been reduced by about 4.5% or 3 gigawatts (GW) as production was lowered at nuclear reactors and thermal plants, data from state-controlled nuclear group EDF (EDF.PA) showed.
Nuclear capacity was reduced by 1.4 GW between four reactors and 1.6 GW of thermal capacity at three plants was taken offline.
The strike — a backlash against the government's plans to make people work longer before retirement — also disrupted public transport and schools.
Wage negotiations made workers in the nuclear sector and in power production generally particularly motivated to join the strike, energy union FNME-CGT representative Viriginie Neumayer said.
France was set to be a net importer of electricity from neighbours throughout the day, grid operator RTE data showed.
On the refining side, petroleum product deliveries from TotalEnergies' sites were blocked, the company said.
There was currently no shortage of fuel at petrol stations, with stocks in depots and service stations at a satisfactory level, the company added.
Between 75 and 100% of workers at TotalEnergies sites joined the strike, Eric Sellini, coordinator at the hardline union CGT for TotalEnergies, said.
There were currently no blockages at sites run by Esso, the French subsidiary of ExxonMobil (XOM.N), but workers were going to demonstrations throughout the day, a CGT representative said.
Unions, which have scheduled protest rallies across France throughout the day, want to keep up pressure on the government and hope for a repeat of the large turnout for the first national day of protest on Jan. 19.
That day, more than a million people marched in opposition to raising the retirement age to 64 from 62 and pushing back the age of eligibility for a full pension.
Opinion polls show most French people oppose the reform, but President Emmanuel Macron and his government intend to stand their ground. The reform is "vital" to ensure the pension system keeps working, Macron said on Monday.
*Forrest Crellin, Benjamin Mallet, America Hernandez, Editing: Ingrid Melander & Christina Fincher – Reuters
Follow us on twitter