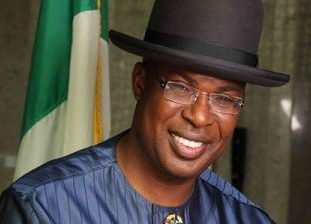 Ike amos
Abuja — Minister of State for Petroleum Resources, Chief Timipre Sylva, Thursday, prevailed on transporters in the country to to reciprocate the gesture of the Federal Government by undertaking a downward review of their prices.
Speaking at the Leadership Newspapers Conference and Awards for 2019, Sylva explained that the call became necessary to ensure that Nigerians enjoy the benefits from the reduction in the prices of the commodity.
He said, "I call on all Nigerians, particularly, operators of commercial vehicles (buses, taxes, Keke NAPEP, haulagers) to follow the compassionate example of the Federal Government by reviewing the price of their services downward so that all Nigerians may benefit from the courageous action of the All Progressives Congress' government under the leadership of President Muhammadu Buhari."
Sylva called on Nigerians to continue to endure the challenges posed by the Coronavirus pandemic and the persistent decline in the price of crude oil in the international market.
"I would like to call on Nigerians to continue to endure even as we are all confronted with very intimidating challenges. Let us all reflect on the courage and thoughtfulness of the Federal Government which, while bleeding from the loss of revenue occasioned by the dramatic fall in crude oil prices due to the COVID-19 pandemic, still put the interest and the welfare of Nigerians over and above all other considerations by slashing the pump price of petrol from N145 to N125," he appealed.
Also speaking, former Group Managing Director of the Nigerian National Petroleum Corporation, NNPC, Dr. Maikanti Baru, stated that the Coronavirus pandemic and the global decline in the crude oil market posed a serious challenge for the global market and the Nigerian economy, noting that the recent challenges had brought to the fore the need for diversification of the economy.
Baru noted that Nigerians might not fully understand the effect of the pandemic because the effect had not become very pronounced in the country.
He said, "We should go away from mono-economy, depending on only oil. Our suppliers are shutting down and because of it, we are going to have shortage; and with low income, coming from oil price dropping to N25 dollars per barrel, these are low to cover production cost. This is very terrible situation, we should empathise with government."
He further advised the country's foreign reserves should be judiciously managed to ensure the country passes through these challenging economic times, while he added that the government and Nigerians must understand that the nation was in a tough situation and there is need to brace to the challenge.