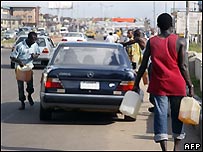 Caleb Ayansina
19 January 2012, Sweetcrude, ABUJA –Long queues of vehicles waiting to get premium motor spirit (PMS) or petrol were, Wednesday, noticed at major fuel stations within Nigeria's Federal Capital Territory (FCT), signalling acute scarcity of the product. W
Most of the fuel stations were not selling the product, while the ones selling were overwhelmed by customers struggling for the product.
This development created a booming market for fuel hawkers (black marketers) who resurfaced despite the presence of security agents and personnel of Abuja Environmental Protection Board (AEPB). With the hawkers, 10 litres sold between N2,200 and N2,500, depending on buyers' bargaining power.
A fuel attendant, who preferred anonymity, told Vanguard that the scarcity might be connected with the recent strike by organised labour and civil society organisations.
The attendant said: "The scarcity is because there is no oil in town. I think it is because of the strike. They just started lifting of oil to major marketers."