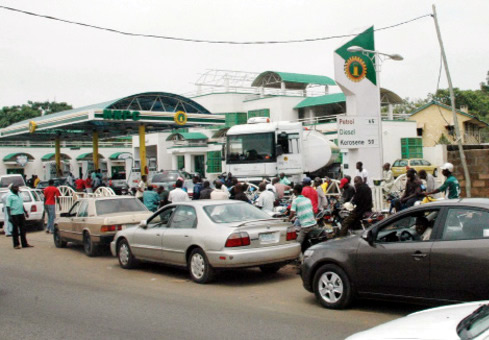 OpeOluwani Akintayo
07 December 2017, Sweetcrude, Lagos – The Premium Motor Spirit, PMS, also known as petrol, is selling for between N300 and N400 per litre in Lagos as the fuel scarcity across the country worsened on Wednesday.
The Federal Government has however directed the Minister of State for Petroleum Resources, Dr. Ibe Kachikwu, to end the scarcity before the weekend.
With fuel stations under lock due to lack of supply, black market operators made brisk business, selling a five litre can of petrol at between N1,500 and N2,000.
States like Lagos, Ogun, Kwara and Abuja are currently witnessing long queues at petrol stations, with motorists struggling to buy the commodity at few stations that had the product.
Long queues of petrol tankers were observed along the Oshodi-Apapa expressway, parked by the roadsides. The drivers said they have no signal to move to the depots to load.
Last week, the Independent Petroleum Marketers Association of Nigeria, IPMAN, in Lagos, alleged that the Nigerian National Petroleum Corporation, NNPC, did not give its members enough petrol.
The association also accused the corporation of no longer selling to them at N133.28 per litre and that it was impossible for them to continue selling the product at NNPC's official price of N145 per litre.
The Executive Secretary, Depot and Petroleum Products Marketers Association, DAPPMA, Mr. Olufemi Adewole, said an increase in price of crude oil had caused a rise in prices of refined products.
"It is only NNPC that is bringing products in. We also noticed a supply gap in what they brought in. It wasn't enough at a particular time and the result is what we are seeing today", he said.
"But they have equally assured us that they have enough stock and that they are expecting vessels to come in. Our members have paid for PFI (pro-forma invoices) for PMS. So, once NNPC cargoes come in, we will receive the product and sell to Nigerians ," he added.
Adewole explained that the reason marketers were not importing was that the landing cost of PMS had increased to about N165-N170 per litre.
"But the government is saying we should sell at N145 without subsidy. That's why we have to depend on NNPC to sell to us", he added.
Many stations as at Wednesday, were under lock and key.
However, despite the scarcity and the high black market prices, transport fares remained unchanged.
Vehicles from Mile 2 to Oshodi, maintained same old price of N100 while buses from Ikeja Along to Mile 2 also maintained same old price of N150.
In a release on Monday, the NNPC warned against panic buying, saying it had enough stock to last through the festive period.
"For the umpteenth time, I wish to call on all Nigerians to stop panic buying. We have sufficient products to cater for the needs of all consumers", the NNPC Group Managing Director, Dr. Maikanti Baru, said in a statement.
On Tuesday, the Senate Committee on Petroleum, Downstream, said plans have been concluded for it to conduct nationwide inspection of filling stations over the fuel scarcity.
According to chairman of the committee, Kabiru Marafa, the Senate would not allow unpatriotic persons put Nigerians through any form of hardship, particularly during the yuletide.
He noted that though the Senate had adjourned to commence budget defence, members of the committee would take time out to embark on the oversight.
Officials of the Department of Petroleum Resources, DPR, are also on inspection of petrol stations and storage tanks across the country.
On Tuesday, the officials visited some stations in Abeokuta, Ogun state to check hoarding of products.
The Senate had also summoned the NNPC Group Managing Director, Baru on Tuesday.
However, Baru could not make it to the meeting as he was due to receive an award in the U.K, although a later statement by NNPC, disclosed that Baru had canceled his trip due to the biting fuel crisis.