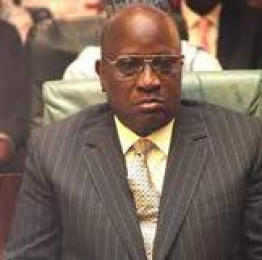 Okey Ndiribe
28 January 2012, Sweetcrude, ABUJA – The committee established by the Nigerian government to dialogue with the nation's organised labour over the removal of subsidy from petrol commenced sitting in Abuja last Thursday.
The Committee led by retired Justice Alfa Belgore held an exploratory meeting during which they agreed to address the cost of governance in the country among other issues which affect the welfare of Nigerians.
Justice Belgore who disclosed that the Committee will continue with its deliberation next week also stated that the Minister of Finance, Mrs. Ngozi Okonjo Iweala and the Minister of Petroleum Resources, Mrs. Diezani Alison Madueke would be in attendance.
Edo State Governor, Adams Oshiomole, a member of the committee, who spoke to journalists on the outcome of the inaugural meeting at the Office of the Secretary to the Government of the Federation, said members also raised the issue of good governance.
The Governor added that since the protest over removal of subsidy had been called off, the committee will have to take a critical look of the subsidy to ascertain the cost, consumption and others.
Said he: "I think both the Federal Government and the organised labour appreciate that since the strike has been called off, a lot of issues have been raised not only by labour but also by the public especially on good governance.
He said: "Issues of cost of governance , what is subsidy, how much is in it, who is responsible for what.
All of those issues have not been resolved. And it is in the interest of the Nigerian nation that those issues are resolved to the satisfaction of everybody.
"If we can find answers to all that, the oil sector will be the better for it. But right now, I think the issues are far from complete and it will really be appreciated by people not just about price."
Justice Belgore, who is the chairman of the committee, commended the labour for exhibiting the highest level of maturity in dealing with national matters.
He said everybody has accepted that subsidy should be withdrawn but the areas of contention remain how and when the removal should be effected.
The committee said despite that the Federal Government has reduced the subsidy, talks are still ongoing to ascertain the statistics of the refineries operations and whether the refineries should be in private hands.
He added that the committee would ascertain the refineries operational capacity and how to raise their level of production.
Belgore said: "We want to look at the statistics of everything. What are the refineries doing? Are they functioning fully? If they are not, why and what is going to be done to make them function. Are there going to be more refineries in the country. Are the refineries going to remain with government? Is the private hand."