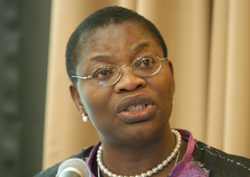 24 October 2011, Sweetcrude, Lagos — As the battle line appears drawn between advocates of the withdrawal of fuel subsidy and those opposed to it, the World Bank Vice President for African Region, Dr Oby Ezekwesili, has stressed the need for Nigerian government to tackle the supply structure of fuel before implementing the policy.
Ezekwesili spoke against the groundswell of opposition to the policy even as the House of Representatives has assured that it would take a decision on the issue in the best interest of Nigerians.
Commenting on the proposed removal of fuel subsidy by the federal government, the World Bank Vice
President, said: "Government needs to focus on the supply side. The supply structure of fuel needs urgent attention of the government. First of all, in tackling the issue of fuel in the country, the government should be able to address the supply of fuel. That is all I can say on this at the moment."
Ezekwesili, who spoke with newsmen weekend at a forum organised by the Apostle in the Market Place (AiMP) warned the federal government to urgently reduce its recurrent expenditure if it wants to address the huge infrastructure deficiency in Nigeria.
She noted that over $25 billion would be required to address the infrastructure problem in the country, noting that "Nigeria needs to tackle the infrastructure deficiency in order to attract investment.