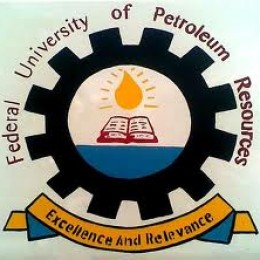 *Outgoing VC orders deputy to retire
Emma Amaize
13 March 2012, Sweetcrude, WARRI- A fresh management crisis is brewing at the troubled Federal University of Petroleum Resources, Ugbomro, Effurun, Delta State, as the outgoing vice-chancellor, Prof Babatunde Alabi, has directed the deputy vice chancellor, Prof Isaac Osazuwa to proceed on retirement as from March 20.
Prof Osazuwa had, however, rejected the order to proceed on retirement, saying the registrar, Dr. Mrs. Onwuka, who wrote the said letter, entitled, "Cessation of Appointment", dated March 9, should withdraw it.
Prof Osazuwa is supposed to take over from the outgoing Vice Chancellor, Prof Babatunde Alabi, whose tenure expires on March 26, but by the new development, which was communicated to him by the Registrar, in a letter, reference number, FUPRE REG/SP 83/Vol 1/020, he would have to stave off his forced retirement first.
Mrs. Onwuka made it clear in the eight-paragraph letter that she was directed by the vice chancellor, Prof Alabi to issue the directive to the deputy vice chancellor.
The registrar's letter reads in part: "The information in your record has 20 March, 1947 as your date of birth… Section 5 b (a) , page 55 of FUPRE rules and regulations , governing the conditions of service of employees on CONTISS II 06/CONUUASS II 01, and above states that a member of staff shall retire from service of the university on attaining 6o years (for non teaching staff) and 65 years (for academic staff".
"In line with existing laws on retirement for academic staff as indicated above, be informed that your appointment shall cease automatically on 20th March when you would have attained 65 years of age", the registrar stated.
But in his reply, dated March 12, the Deputy Vice-Chancellor, Prof Osazuwa said, "The laws which the Registrar quoted in her letter have been overtaken by events, therefore , my appointment as an internationally renowned Professor of Geophysics cannot cease "automatically" on 20th March, 2012", adding, "Also my appointment as Deputy Vice-Chancellor of FUPRE has tenure and it is not tied to age limit".
He also said that appointments, promotions and discipline of staff of his category are the business of the Governing Council of the University, pointing out, "This power has not been ceded to the university management even in the absence of Governing Council. In view of the issues raised in this letter, my advice is that the Registrar's letter should be withdrawn".
Already, there is speculation that the Nigeria Universities Commission, NUC, may name an Acting Vice Chancellor on the exit of Prof Alabi on March 26 if the retirement of Prof Osazuwa, March 20, holds sway.