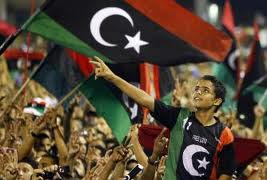 21 October 2011, Sweetcrude, Tripoli – Libya's oil chief said the death of ousted leader Muammar Gaddafi and an end to NATO'S bombing campaign would hasten the return of the OPEC country's oil to world markets by improving road links and quelling security concerns.
"This will improve transport to fields and we can now concentrate on rebuilding the sector," the chairman of the National Oil Company, Nouri Berouin, told Reuters in an interview.
The oil chief said daily output had risen to 430,000 barrels per day after two more eastern oil fields operated by Benghazi-based Agoco had successfully been restarted following delays last week.
Concerns about security and limited transport links have hampered efforts to inspect damaged oil fields and begin making repairs.
Many oil fields, including the giant Elephant and El Sharara fields operated by Eni and Repsol, which account for around a quarter of the country's 1.6 million barrel per day output, have been largely abandoned due to security worries.
Prospects have improved for sending staff to areas that had been viewed as vulnerable to attacks by roaming loyalist militia.
In addition, an end to NATO'S bombing campaign will help firms repatriate key staff and make it easier to deliver equipment to remote outposts in the Saharan desert where sites have been looted and supporting infrastructure razed to the ground by retreating troops.
Despite the improved outlook for rebuilding oil fields and terminals destroyed in the war, companies mulling a return to Libya remain wary of the prospect for an era of fresh instability brought about by fractious and heavily armed leadership.
The few foreign oil contracts that have returned to Libya are unsettled by tribal rivalries and the familiar ring of gunshots day and night in the capital has done little to quell their anxiety.
"There are still two very big issues here. There are major worries about safety and this is still a high-risk environment," said a contractor in Tripoli working for an oil major.
Analysts are eyeing the mounting difficulties the interim government is facing within its ranks and rising power of the Islamists within the coalition.
"There is no parliament, no constitution, and virtually no civil society organizations, and the Libyan military is riddled with tribal and regional divisions. Hence, the potential for a security and political vacuum in Libya continues to be elevated, in our view," analysts at Barclays Capital said in a note.
Adding to political uncertainty, the leadership and structure of the all-powerful National Oil Company is now another step closer to a reshuffle that could see its chairman replaced and some of its control over the country's oil sales redistributed.
"I don't know how much longer I will remain in my position," said NOC chairman Nouri Berouin. "All I am concerned with is restarting production to provide Libya with an income."
Berouin revised previous suggestions Libya's largest oil refinery was ready to resume operating once stocks had built up to a critical level of half a million barrels.
Instead, he said the refinery at Ras Lanuf was likely to remain offline until the end of the year.
The 220,000 barrel per day plant accounted for well over half of Libya's refining capacity before the uprising that led to the ousting and death of the country's former leader.
The NOC is anxious for the refinery to resume operations to relieve the cost of purchasing fuel from the spot market and has already said it will prioritise use of its crude oil for domestic needs.
However, the oil chief expected a boost in exports "very soon" as the first cargo was due to be lifted from the port of Zuietina, although he declined to provide an exact date.
So far, Libya's crude oil exports have been limited to Sarir or Melittah, and shipped from the eastern port of Marsa el Hariga.