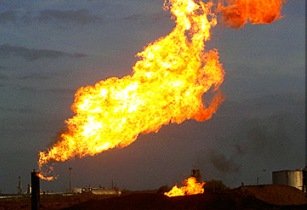 Mkpoikana Udoma
Port Harcourt —
A civil society organisation, CSO, known as We The People, has raised the alarm that
gas flaring
was poisoning over 40 million inhabitants of the Niger Delta region.
The CSO regretted that the Petroleum Industry Act, PIA, has no provision towards tackling gas flaring, instead the Act regards gas flaring as an economic loss for the government.
Executive Director of We The People, Mr Ken Henshaw, speaking recently at a townhall meeting organised by Social Action in Port Harcourt, wondered why penalties and fines imposed on oil companies for gas flaring are not paid to impacted communities who suffer the danger of gas flares.
Henshaw, at the town hall meeting on "The Petroleum Industry Act 2021: Challenges of  Environmental Pollution in Niger Delta Communities", called for immediate amendment of the PIA in order to inject fresh regulations that will protect the livelihoods and lives of the Niger Delta people.
The activist explained that since the1970s, gas flaring has been outlawed in the country, regretting that the government keeps shifting goal post at every deadline set for ending gas flaring in the country.
He regretted that Nigeria's net zero transition plan is targeting the year 2060, hence the people of Niger Delta will have to continue to live with gas flaring for the next 40years.
He said: "Fines from gas flaring is actually an additional revenue to the government, not to the host communities who suffer acid rain, cancer and other health impact.
"The PIA only see gas flaring as an economic losses and not health poisoning of 40million people in the Niger Delta. Unfortunately, we will have another 40 more years of air poisoning from gas flaring in the region with Nigeria's net zero transition plan is targeting the year 2060.
"The age of crude oil has come to an end. The stone age did not end becuase people ran out to stone, the world is setting deadlines."
On the issue if divestment by oil multinationals, the rights activist said it will take an estimate of $150billion to decommissioned oil facilities in the Niger Delta.
He commended the Bayelsa State Government for standing with the host community, for the first time in history, during the well blowout from a facility operated by Aiteo at Santa Barbara, which lasted for over a month.
"Oil extraction was imposed on the communitues. There's no where the people sat down and agree to host any oil company. The PIA treats the local communities as subjects of oil infrastructure.
There is no where the oil majors have pre-informed their host communities that they are divesting.
"We are not saying they (oil majors) shouldn't leave, but before leaving, they must ensure to remediate the environment and restore it back to the way it was before exploration," he said.