25 November 2014, Abuja – The Central Bank of Nigeria, CBN, has offset the N36.9 billon legacy debt owed to gas suppliers by the power sector under the defunct Power Holding Company of Nigeria, PHCN, over the last few years.
This debt settled through the CBN was part of the N213 billion intervention fund initiated by the Federal Government to address the hiccups, which characterised the post-privatisastion of the power sector of the economy.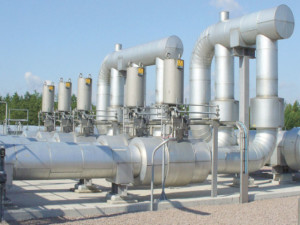 The Federal Government had on September. 13, 2014, announced a N213 billion intervention facility to offset gas legacy debts and address the revenue shortfall in the electricity market.
While the N36.9 billion was disbursed to settle gas supplies, the balance will go to Generation and Distribution companies, to complement the revenue shortfall.
The agreement was signed between the Federal Government and Generation and Distribution companies, Independent Power Producers, International Oil Companies, and the Nigeria Gas Company, for the supply of gas in order to clear the hiccups.
The oil companies involved in the agreement signed in Abuja, include Agip, Oando, Pan Ocean, Chevron, Shell Petroleum Development Company (SPDC), Nigeria Petroleum Development Company, SEPLAT Petroleum, and Total.
The Minister of Power and that of Petroleum Resources, the Group Managing Director of NNPC, Governor of Central Bank of Nigeria (CBN), and Chairman of Nigeria Electricity Regulatory Commission, signed on behalf of the Federal Government.
Addressing the stakeholders during the ceremony, the Minister of Petroleum Resources Mrs. Diezani Alison -Madueke, explained that the intervention was initiated to move the sector forward.
According to her, "In the last few weeks, the CBN, NERC and Federal Ministries of Petroleum as well as Power, have been collaborating to develop lasting solutions to the challenge of gas supply.
The interventions started with an increase in gas to power price to levels considered more commercial than before and at par with export parity. Gas transmission tariff for gas supplied to power was also increased to reflect commercial rates and enable private investment in infrastructure.
Mrs. Alison Madueke recalled that, "In our last press engagement, a further intervention aimed at addressing legacy debt owed to the gas sector was also announced.
"Today, I am pleased that we are formally consummating our last intervention. Legacy debt of about N36.9bn owed to gas suppliers by the power sector (PHCN) over the last few years is now being settled through the CBN led intervention scheme"
– Vanguard
– Vanguard