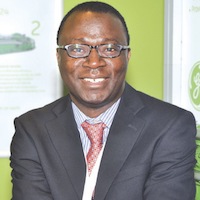 25 March 2013, Lagos – Multinational power firm, General Electric, says it is playing a significant role in Nigeria's on-going power sector reforms because the country is a very important market.
President and Chief Executive Officer, General Electric Nigeria, Lazarus Angbazo, who disclosed this at the Nigeria Summit in Lagos, said due to "Nigeria's very important market", his company was committed to filling the huge supply gap in the power sector.
"GE's strategy for Nigeria is hinged on three pillars; first to build infrastructure solutions that are relevant to the local market, localize GE's capability in terms of personnel, suppliers and expertise and build financing capabilities which we plan to do through GE Capital which has the ability to work with the local banks to achieve our objectives," he said.
He cintinued: "Already, we have signed an agreement with the Federal Government to invest $1 billion in building a manufacturing assembly plant in Calabar. We also intend to employ 2300 Nigerians to power GE's operations and to this end, we are instituting training programmes to build capability to deliver on our goal.
"This investment will make Nigeria a regional hub for manufacturing, service, and innovation with an improved ability to support a broader range of product lines in power generation as well as oil & gas exploration and production."
Still on the company's investment boosting capacity in the power sector, Angbazo said his company hosted an engineering fair for local Nigerian suppliers who have the capability to partner with GE in delivering on its five year project in the country.
"GE plans to provide training (1-year – 4-year programs) locally and internationally for repair engineers, welders, fabricators, machinists, special processing (coating) etc.
"We plan to build a training facility on our manufacturing site to ensure on-going employee development" he stated.
The GE boss commended the Federal Government for its focus and investment in developing the power sector as well as the oil and gas industry, saying: "This administration has invested a lot in the oil and gas and power sector and this is a bold step in the right direction.
"With a government that is open to innovation in these key sectors and with the support of private sector partners like GE, we are optimistic that Nigeria's Vision 20/2020 can be a feasible reality".