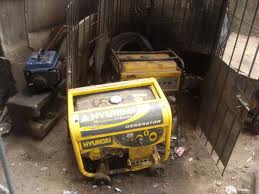 Suzan Edeh
15 February 2012, Sweetcrtude, BAUCHI — Residents of Jahun quarters, a suburb in Bauchi, Bauchi State capital, have been thrown into mourning following the death of three people inside a dry well in the area.
The incident took place at the residence of one Mallam Bala Mohammed.
According to sources, the said Mohammed gave a contract for the cleaning of the well in his compound to his friend, Mallam Mohammed Gudum, because the dry well was dirty and also needed to be dug deeper to bring more clean water.
However, the contractor allegedly sublet the job to one of his sons, Salisu, as he was said to be busy with other things.
It was further learnt that although the well was not very deep, it usually retains water throughout the year, from which people from the neighbourhood fetch water for their domestic chores.
Tragedy, however, struck when Salisu, who had finished digging and plastering the walls of the well, decided to take a generator inside the well.
Neighbours said because there was no pipe to evacuate the fumes out of the well, Salisu inhaled so much of the poisonous gas, lost consciousness and died inside the well.
Tension began to mount in the compound, when Salisu did not come up, prompting his colleague, Yahaya Mohammed, who was assisting him to do the job, to enter the well to see what was happening. He died too.
The matter later, took another dimension, when one Abdullahi Dajin, 45, and one Adamu, volunteered to go into the well to bring out the victims with the aid of a rope.
However, after successfully bringing out the dead bodies of the victims from the well, one of the good samaritans, Mallam Abdullahi tried to climb out of the well and slipped back, landing on Adamu who died instantly. Abdullahi survived.
In his reaction, a medical doctor with the Abubakar Tafawa Balewa University Teaching Hospital (ATBTH), Labaran Dattijo, attributed the death of the three victims to poisonous gas from generator fumes.
He said that when a generator is placed in a secluded area where there is no ventilation, the fumes would be dangerous to human beings and could result in death.