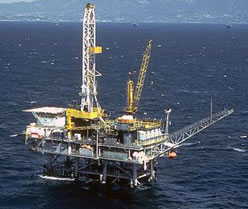 26 November 2011, Sweetcrude, Accra – Ghana has no excuse to fail in the exploitation process of its oil and gas, since it has both negative and positive lessons to learn from other countries, Vice President John Dramani Mahama said on Friday.
"Ghana has discovered oil and gas at the time that countries such as Norway and Canada have been so successful in their exploitation and the time that neighbouring Nigeria has experienced negative experiences,"he said.
Vice President Mahama disclosed this in his address at the international conference on: "The avoidance of the oil curse in Ghana," in Koforidua, which is part of government's efforts to sensitise Ghanaians on the resource.
Organised by the National Development Planning Commission in collaboration with the Ministry of Energy, the conference saw participants from the government sector, oil and gas companies, policy makers and the private sector.
Mahama explained that Ghana is enjoying constitutional governance, which empowers every Ghanaian to make inputs towards the successful exploitation of the resources without experiencing the mistakes of the past.
The Vice President said government would draw up strategies that would ensure equity and equitable distribution of the oil and gas revenue, adding: "We will ensure that the revenue does not benefit only a few Ghanaians, but to include the poor and vulnerable in the society."
On the disbursement of oil revenue and the $3billion Chinese loan, Vice President Mahama said government would invest a chunk of it in the oil sector, rehabilitate the western railways and expand the Takoradi harbour and ports vessels.
Vice president Mahama said while investing on the oil and gas industry, government would continue to provide adequate attention to the traditional resources in order to avoid the proverbial 'Dutch disease' where countries over concentrated on oil and gas at the dereliction of other sources of revenue.
He said Ghana now produces 90,000 barrels of oil and had so far churned out 22 million barrels.
He expressed the hope that the country would step up its production levels in the coming years.
Dr Joe Oteng Adjei, Minister of Energy said government would make all petroleum agreements public so as to receive inputs from stakeholders as a way of avoiding the negative experiences some oil-rich developing countries had faced in the past.
He observed that if the oil and gas industry is properly handled, it could become the engine of industrial development to boost the economy and accelerate job creation for the teeming youth.
Dr Adjei said government would also put up measures that would avoid high wave of crime and other social vices in the oil and gas producing areas.