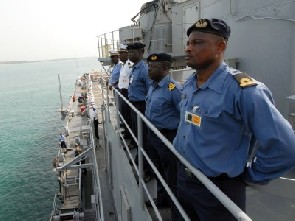 11 March 2012, Sweetcrude, ACCRA – The Ghanaian Navy says it has arrested a vesel laden with stolen oil from Nigeria.
Director of Public Relations at the Ghana Armed Forces, Colonel M'Bawine Atintande, who disclosed this in Accra to Joy News channel on Satursday, said the arrest of the foreign vessel, Merchant Tanker (MT) Madina, was effected by two of the country's four newly commissioned Naval vessels.
He said the vessel, loaded with oil reported to have been stolen from Nigeria, was arrested on Thursday at the Saltpond oil fields where it was transferring fuel to another vessel.
Giving details on how the arrest was made, he said the Ghana Navy had received hint from its Nigerian counterparts about the vessel and moved in to make the arrest.
He stated that the ship would be handed over to the port authorities and that legal action would be taken against the perpetrators by the appropriate authorities.
According to him, armed guards have been placed on alert at the oil fields to protect the vessels.
Another account of the arrest reported by the Ghana News Agency (GNA) said the vessel was arrested while attempting to discharge "hijacked crude oil from Nigeria" at the Saltpond Offshore Producing Company Limited (SPOCL).
Mr Quincy Sintim Aboagye, Chief Executive Officer of SPOCL, who had earlier received information about the hijacked crude from the owners, directed that the vessel should be tied up to prevent it from escaping until the Navy ships arrived, the report said.
The owners of the vessel told GNA that it had been engaged in lifting crude oil from a marginal oil field in Nigeria into a bigger vessel, MV North Wind Grace, but the Captain and the crew conspired to hijack it while laden with crude oil.
They said they began to trace the vessel and alerted the Benin and Ghanaian security.
They informed Mr Aboagye about the incident, who confirmed that the vessel was at SPOCL and they pleaded with him to detain the vessel until the Navy moved in to arrest it, according to GNA.
The owners said they would file the necessary papers to reclaim their oil and the vessel at the courts on Monday.