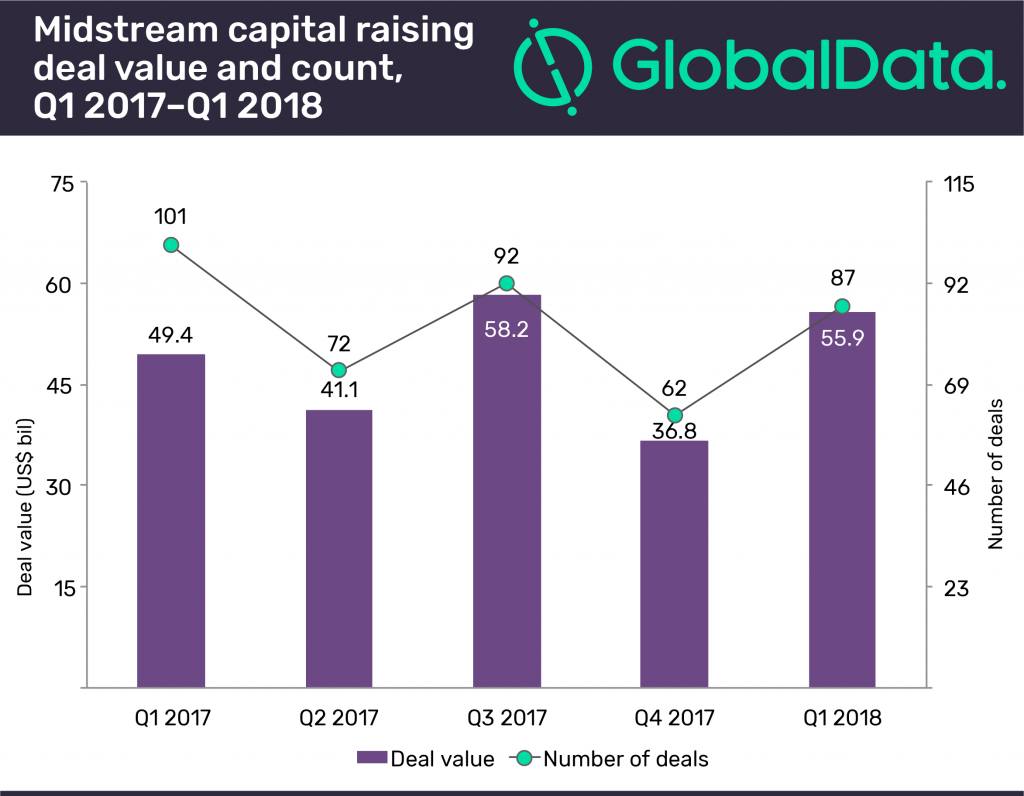 13 May 2018, Sweetcrude, Houston, Texas — Global capital raising activity in the midstream sector totalled $55.9bn in Q1 2018. This was a significant increase of 52% from the US$36.8bn in capital raising deals announced in Q4 2017. On the volume front, the number of capital deals increased by 40% from 62 in Q4 2017 to 87 in Q1 2018, according to GlobalData, a leading data and analytics company.
A year-on-year comparison shows an increase of 13 percent in capital raising the value in Q1 2018 when compared to Q1 2017's value of $49.4bn. The quarter recorded 34 capital raising deals with values greater than $500m, together accounting for $42.3bn.
Capital raising, through debt offerings, witnessed an increase of 47 percent in deal value, recording $37.3bn in Q1 2018, compared to $25.4bn in Q4 2017. Capital raising, through equity offerings, registered a 44 percent increase in deal value, with $11.4bn in February 2018, compared with $7.9bn in Q4 2017. Furthermore, seven private equity/venture capital deals, with a combined value of $7.1bn, were recorded in Q1 2018, compared to nine deals of a combined value of $3.5bn in Q4 2017.
One of the top deals of Q1 2018 was Sempra Energy's public offering of shares, for gross proceeds of $4.6bn. The company received net proceeds of approximately $4.2bn, after deducting the underwriting discounts. Morgan Stanley & Co. LLC, RBC Capital Markets, LLC and Barclays Capital Inc acted as joint book runners; HSBC Securities (USA) Inc, Santander Investment Securities Inc, and SG Americas Securities, LLC acted as underwriters to the company in the transaction. Sempra Energy intends to use the proceeds to finance the merger and related costs and expenses, to repay indebtedness, and for general corporate purposes.
Anna Belova, Senior Oil & Gas Analyst at GlobalData, comments, "Regionally, Americas led the global capital raising market in terms of volume and deal value, with 70 deals worth a combined value of $47.2bn in Q1 2018. Europe, Middle East and Africa registered 11 deals, of a combined value of $6.8bn; while Asia-Pacific recorded six capital raising deals, with a combined value of $1.9bn in Q1 2018."