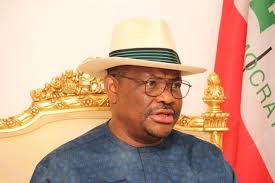 Mkpoikana Udoma 
Port Harcourt –
– Rivers State Governor, Nyesom Ezenwo Wike has said that greater devolution of resources to the federating states as well as fiscal federalism remains the right path to 
economic self-reliance and sustainability for all states in the country.
Governor Wike in a statewide broadcast ur
ged all elected governors to collectively fight for devolution of resources, responsibilities and power to states.
The governor in reaction to the High Court judgement against the Federal Inland Revenue Services on collection of value added tax, accused 
FIRS of bullying corporate bodies and business entities from paying VAT to the Rivers State Government.
He also accused some state governors of working hard to truncate the move against FIRS,  in favour of the status quo, which he said was akin to the Federal Government robbing Peter to pay Paul.

"Above all, fiscal federalism remains the right path to economic self-reliance and sustainability for all our States and the benefits derivable from this case by all the States in the long run far outweigh the immediate revenue loss that some States may presently suffer.
"All that is required is for all of us to wear our thinking caps as elected Governors to collectively fight for the greater devolution of resources, responsibilities and powers to the federating States.
"It is therefore very unfortunate that some State Governors led by that of Katsina State are vainly conspiring to truncate this progressive reality in favour of the inequitable status quo so that the Federal Government can continue to rob Peter to pay Paul as the nation's self-imposed tax master-general.
"For us in Rivers State, we will continue to ensure and project our constitutional rights to access all possible resources we can take hold both within and outside our geographical boundaries to advance the progress of our State."
Governor Wike said with the court's judgement the way was now clear for the administration and enforcement of the Rivers State Value Added Tax Law 2021 across the entire State until otherwise decided and set aside by the Superior Courts.
"Consequently, I hereby direct the Rivers State Internal Revenue Service to ensure the full and total implementation and enforcement of this law against all corporate bodies, business entities and individuals with immediate effect.
"All corporate bodies, business entities and individuals are advised to willingly, truthfully and promptly comply with their tax obligations under this law to avoid the full weight of the stipulated sanctions, including having their business premises sealed-up.
"Let me warn that the Rivers State Government is fully in charge of the State and will not tolerate any further attempt by the FIRS to sabotage or undermine our authority to freely administer our tax and other related laws in our own State. Those who play with fire risks having their fingers burnt. Enough of the shenanigans.
"I wish to further assure every resident that we shall as usual make effective use of the expected proceeds from this tax to accelerate the development of our State and improve the wellbeing of everyone."