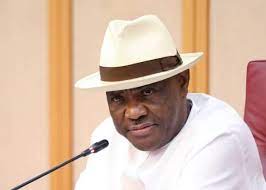 Mkpoikana Udoma
Port Harcourt — Rivers State governor, Nyesom Ezenwo Wike has advised the new board of the Niger Delta Development Commission, to do things differently, by adopting a regional development approach that will strictly commit to the holistic development of the region.
Governor Wike gave the charge when the new chairman of NDDC board, Mrs. Lauretta Ifeanyi Onochie led other members of the board, on a courtesy visit to him at Government House, Port Harcourt.
The governor urged the Mrs. Onochie led board to embrace the conceptualisation and implementation of projects like the construction of high ways with bridges to link States.
Such projects, he opined, will serve as economic corridors to ease interstate movements and promotion of socioeconomic integration within the region.
"I read what you said that things will be done differently. I want to believe that you're sincere. Sometimes, I feel ashamed where I come from. We talk about underdevelopment but look at the amount of money that has passed through NDDC, then look at the projects on ground."
The Rivers State governor said when projects are awarded, they should not be given to portfolio or political contractors, but to competent ones who will stick to delivering quality and enduring projects.
"There is what we call regional development projects that can link up two states, those are the kind of things NDDC should go for and give it to competent contractors. Leave these political contractors. Leave all these portfolio contractors. Leave them alone. You have come to my state, and you have seen what I have done.
"If I didn't use Julius Berger and had used these political contractors, you won't have seen anything here. Of course, you know how expensive Julius Berger is. From 2019 till now, we have done 12 Flyovers by Julius Berger. You know how much we are talking about, and you can replicate that. Even though they are expensive, but you'll see the value."
Governor Wike envisaged a situation where NDDC could devote huge sums annually, for example, to executing projects in each State of the region without distorting existing development master plan.
The governor said it is shameful to see the unproductive model NDDC had operated, serving as mere cash cow to politicians and spending about N10 billion in futile attempt to rig the 2019 elections in Rivers State.
"NDDC has become a cash cow for politicians. Look, part of the money NDDC lost in this state just to win election here. N10billion wasted. N10billion you could have used to construct a mega project in the State."
Governor Wike also demanded that NDDC pay up its partnership and contractual obligation of N2.5billion, which is half of the N5 billion mutually agreed between it and the Rivers State government for the reconstruction of the dualised Eastern By-pass Road leading to NDDC Headquarters.
Earlier, the new Chairman of NDDC Board, Mrs. Lauretta Ifeanyi Onochie said they visited to formally introduce themselves to him as the governor of their landlord State.
Onochie noted the remarkable quality of infrastructure delivered by the administration of Governor Wike that has transformed the entire landscape of Rivers State.
She said the Board came to ask for guidance and seek the governor's advice on how best the new board could break away from the provision of poor services and projects known of NDDC and replicate his quality project delivering mantra across the region.
"We are here to ask for your guidance. You have said and know, and you have spoken about the poor services that NDDC have been known for. Trillions of Naira has been pumped into this commission and we have little or nothing to show for it. We are here now, very determined to do things differently.
Follow us on twitter