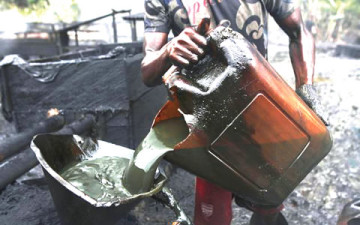 Mkpoikana Udoma
Port Harcourt — The Federal Government has attributed the country's woes to increasing armed robbery, kidnapping, communal tensions, pipeline vandalism and oil theft across the Niger Delta region.
To this end, the government had directed the Ministry of Niger Delta Affairs to design and develop a strategic document for peacebuilding, security framework and participatory incident reporting and strengthening of rural-urban security in the Niger Delta.
The Permanent Secretary, Ministry of Niger Delta Affairs, Engr. Olufunso Adebiyi, disclosed these during the inauguration of the Niger Delta Regional Peacebuilding Strategy Technical Working Group in Port Harcourt.
Adebiyi explained that the non-kinetic approach seeks to bring together all critical stakeholders to a round table to brainstorm and develop a regional peace building strategy for the Niger Delta.
"Recent trend has however, indicated an increase in violent agitations and general insecurity which has unfortunately made the region volatile and unattractive for investors despite the huge potentials that abound. Businesses are being shut on certain days in some states, there is an increase in armed robbery, kidnapping, communal tensions, pipe line vandalism, oil theft etc. across the Niger Delta region.
"The destruction of national assets such as pipeline vandalism and oil theft has resulted in the country's dwindling oil production. This has exposed the country to a lot of economic uncertainties, as it has become difficult to meet up with its OPEC quota, control fast rising inflation and adequately fund the annual budgets," he said.
Also speaking, the Foundation for Partnership Initiatives in the Niger Delta, PIND, tasked stakeholders in the region on approaches to conflict resolution, peace and security in the region
Advocacy Manager of PIND, Mr Chuks Ofolue, said historical tensions and a proliferation of armed groups contribute to the changing conflict and security dynamics in the region.
Ofolue identified conflict issues to include communal tensions, political competition, organised criminality, and resource-based conflicts, warning that if these conflicts were not addressed appropriately, they could continue and even worse, escalate into violence that could derail peace in the region.
The technical working group consists of members drawn from civil society organisations, representatives of the government, members of religious and traditional institutions and other stakeholders from the nine Niger Delta states.
Follow us on twitter