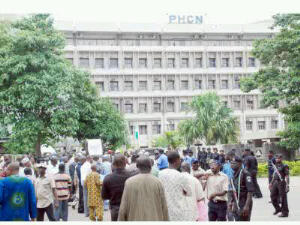 20 March 2013, Abuja –The Federal Government has set up a committee to pay workers of the Power Holding Company of Nigeria, PHCN, their terminal benefits.
The workers, under the umbrella of the National Union of Electricity Employees, NUEE, have been in dispute with the government over their severance package following the privatisation of the company.
Minister of State for Power, Hajia Zainab Kuchi, said at the inauguration of the committee, that the team would be headed by the permanent secretary of the ministry, Mr Godknows Igali.
Representatives of the ministries of Finance, Labour and Bureau of Public Enterprise are members of the committee.
Others memvers are representatives of the Accountant General of the Federation, Auditor-General of the Federation, Pension Commission, PHCN, NUEE, Electricity and Allied Companies, Nigeria Electricity Liability Management Company, and Alexander Forbes Consulting.
The committee is to determine the correct number of workers affected and obtain their bio-data as well as determine components of staff entitlements, including gratuity, pension, and repatriation.
It is also to conduct verification of affected staff with bio-metrics to ensure that authentic beneficiaries obtained 10 digits Nigerian Uniform Bank Account Number for each worker.
The terms of reference also include computations of audition by a team from the Auditor-General's Office and payments to be made to the verified beneficiaries by the Accountant-General's Office
The committee is expected to present progress report and status of payments to the vice-president through the Ministry of Power as well as address other related concerns of government and the union to ensure amicable conclusion of the exercise.
Kuchi said that the committee was expected to complete its assignment within three weeks.
She said that because of the importance of the committee, members must not be below the level of deputy director.
According to her, negotiations carried out by government, labour and other stakeholders led to the signing of the Dec. 11, 2012, agreement.
Kuchi said the agreement outlined the benefits to be paid to the union and also envisaged vital requirements for efficient workforce that would make the sector perform optimally.
The trade dispute between the government and union lingered for two years before the signing of the agreement.
Earlier, Chief Emeka Wogu, the Minister of Labour and Productivity, said that the agreement was the final progress made by the government and the labour union.
Wogu promised that the government would not shortchange the union, adding that President Goodluck Jonathan's administration was concerned about the workers' plight.
Mr Yerima Ngawa, the Minister of State for Finance, solicited the cooperation of the union, adding that the implementation process would be hitch-free.
Earlier, Mr John Otunla, the Accountant-General of the Federation, urged the workers to exercise patience and gave an assurance that the money for the payment was in the Central Bank of Nigeria.
Also, Igali promised that the committee would not disappoint the union.