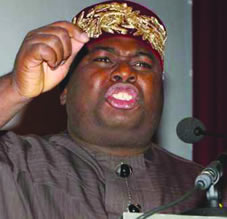 Emma Amaize
20 December 2011, Sweetcrude, WARRI- NIGER-DELTA People Salvation Front, NDPSF, led by activist, Alhaji Mujahid Dokubo-Asari has criticized the Federal Government over the appalling condition of the East-West Road, a vital highway that criss-crosses five states of the South-South geopolitical zone..
At a meeting of the supreme command of the group, last weekend, the group reviewed the on-going dualization the road and said, "We hold that the road has become a death trap as we are confronted daily by the loss of dear and loved ones whose lives are not lesser than anyone else".
The group in a communiqué signed by its spokesman, Mr. Rex Anighoro, said, "Our heart bleeds that such an important road in the heart of the Niger Delta has remained in comatose, it indeed will be a big minus on Dr. Goodluck Jonathan if this road cannot be completed next year".
This reporter who went on tour of the East-West road recently escaped death by the whiskers when his car ran into several disjointed portions on the road in quick succession, leading to a complete damage of the vehicle's gear.
Officials of the three contracting firms: Setraco Construction Company, Reynolds Construction Company and Gitto Construzuoli Generali, handling the dualization of the road declined to speak on the challenges.
But, it was discovered that work was going on at a snail pace due to the delay by the Federal Ministry of Niger-Delta in paying outstanding debts for jobs already done to the construction companies.
From the findings of this reporter, it is not likely that the dualization project will be completed in 2012, which is the new target date for completion.
What is annoying to many people is that the Federal Government under the leadership of a Niger-Deltan, President Goodluck Jonathan, which is supposed to take the road as a priority project, was not releasing funds as and when due to the contractors.