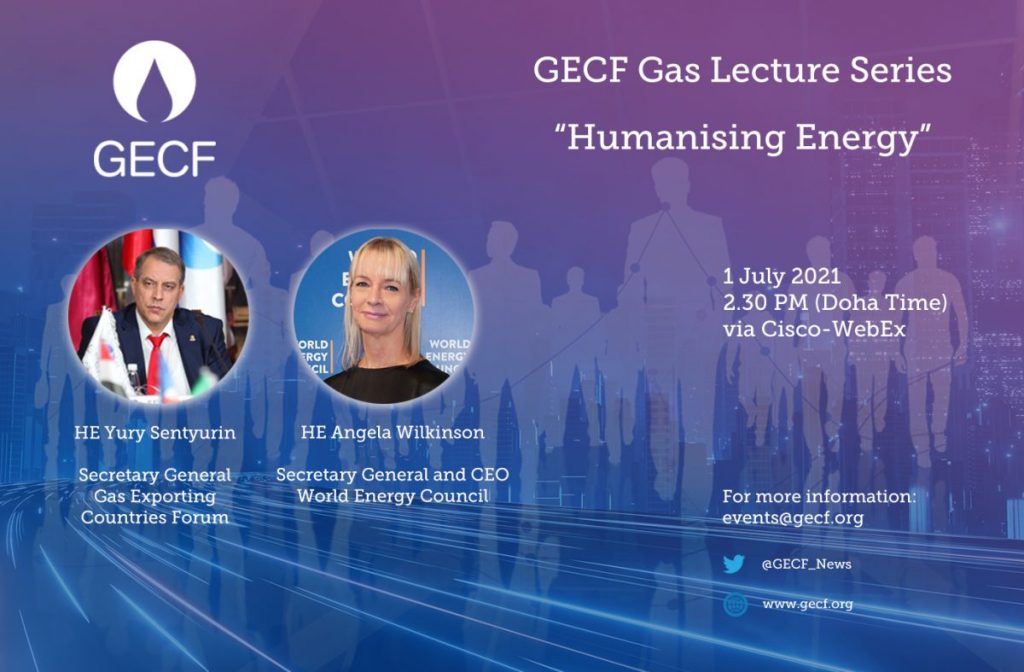 Doha, QATAR –- The Gas Exporting Countries Forum (GECF), the global platform of the leading gas producing nations, will be hosting the next in its signature GECF Gas Lecture Series on Thursday 1 July 2021 at 2:30 p.m. Doha time.
Featuring HE Angela Wilkinson, Secretary General of Global Energy Council, the lecture is titled "Humanising Energy" and will be the 54th lecture of the series and the sixth for this year.
HE Wilkinson's keynote speech will be coming on the heels of the latest World Energy Congress, held a day earlier in Estonia (30 June 2021), as well as the recent launch of the organisation's flagship World Energy Issues Monitor 2021, which provides a snapshot of what keeps CEOs, Ministers and experts awake at night in over 100 countries.
The World Energy Council is the world's principal independent and impartial network of energy leaders and practitioners promoting an affordable, stable and environmentally sensitive energy system for the greatest benefit of all.
Formed in 1923, the Council is the premier global energy body, representing the entire energy spectrum, with over 3,000 member organisations in over 90 countries, drawn from governments, private and state corporations, academia, NGOs and energy stakeholders.
HE Wilkinson is the Council's sixth Secretary General, being at the helm since 2019. An experienced energy executive, a distinguished Oxford scholar and a published author, she has 30 years of experience in leading national, international and global multi-stakeholder transformation initiatives on a wide range of economic, energy, climate and sustainable development related challenges.
Prior to joining the Council in 2017 to create a practical energy transition leaders toolkit and direct a new strategic insights programme, HE Wilkinson led an upgrade in strategic foresight at the Paris-based OECD. Her previous corporate experience includes decades in Royal Dutch Shell and British Gas plc. She holds a PhD in Physics.
Since 2014, the GECF Gas Lecture Series has developed from a small and modest attempt to foster dialogue into a reputable platform of excellence – committed to the pursuit of high-quality debate, insights, and service to the gas industry.
Gas Exporting Countries Forum:
Gas Exporting Countries Forum (GECF) is an international governmental organisation currently comprising of 18 Member Countries – Algeria, Bolivia, Egypt, Equatorial Guinea, Iran, Libya, Nigeria, Qatar, Russia, Trinidad and Tobago, Venezuela (Full Members), Angola, Azerbaijan, Iraq, Malaysia, Norway, Peru, and the United Arab Emirates (Observers), which together represent 70% of the proven gas reserves, 44% of its marketed production, 52% of pipeline, and 51% of LNG exports across the globe. It is headquartered in Doha, Qatar.
Being a foremost energy association, officially established in 2008, the GECF has recorded notable milestones in its evolution and remains committed to supporting its Member Countries in the pursuit of global energy security and meeting the world's growing energy demand, while proving to be reliable suppliers of natural gas – a prominent contributor in the global pursuit towards net-zero emissions energy systems and attainment of the 2030 Sustainable Development Goals.
The Forum provides granular, scientifically-driven insights into the state of natural gas based on a diverse variety of instruments and deliverables, such as the Gas Research Institute, the Global Gas Model – now with elements of artificial intelligence and digital technologies, Global Gas Outlook 2050, Annual Short-Term Gas Market Report, Monthly Gas Market Report, Special Envoys on Data and Statistics, Data Exchange Mechanism, the Short-, Medium-, and Long-Term Gas Market Reviews, and Monthly, Quarterly, and Annual Statistical Bulletins.
GECF increasingly engages with UN subsidiaries UNFCCC, UNECE, UNESCO, as well as G20, ASEAN, BRICS, EEC, OPEC, OAPEC, APPO, IEF, IEA, IRENA, OLADE, IGU, other peers and regional entities, and maintains strategic multifaceted dialogue amongst natural gas producers and consumers.