*2,196 hectares of oil polluted shoreline
Mkpoikana Udoma
Port Harcourt — The Hydrocarbon Pollution Remediation Project has announced plans to commence the remediation of hydrocarbon contaminated shoreline inter-tidal areas in Ogoniland.
The shoreline remediation, which is classified under the semi-complex and complex sites, will be carried out on 2,196 hectares of coastline, making it the largest shoreline remediation in the world.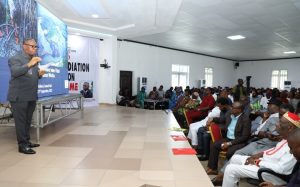 Project Coordinator of HYPREP, Dr Ferdinand Giadom, said the shoreline remediation is a phase which Ogoni people have been waiting for, considering the vastness of pollution and damage to the saline environment and the swarming biodiversity (flora and fauna) that it hosts.
Giadom speaking at the Shoreline Remediation Sensitization Workshop in Gokana Local Government Area of Rivers State, said the remediation of the coastal areas will generate multiplied job opportunities for Ogoni youths and thus enhance their livelihoods and that of their dependents.
"In preparation for take-off of the shoreline inter-tidal remediation, we have assessed a total area of 2,196 hectares and allotted it into 549 grids of 200m by 200m per grid. The assessed coastal lines are in B-Dere, K-Dere, Kpor and Goi communities of Gokana Local Government Area.
"These communities will host the pilot of the shoreline remediation and from there we will progress to the rest coastal communities where there is pollution."
The HYPREP boss also announced that Bodo Remediation Model will be adopted in choosing the workforce for the shoreline remediation project and personnel chosen will be certified in the International Maritime Organization.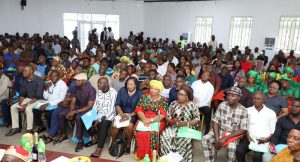 "In choosing the workforce that will be on site, we will be transparent and principled. We will adopt the Bodo mediation model of open balloting to select the workers. 60 percent of the workforce will come through balloting and the remaining 40percent will be supplied by the community leadership.
"Those that would be so chosen shall be trained and certified in the International Maritime Organization (IMO Levels 1 and 2). Their supervisors will have the privilege of having IMO level 3 certification. The IMO certification component of the shoreline remediation is a deliberate permanent effort to empower our youths to work on similar projects anywhere in the world."
Giving a breakdown for the project, Dr Giadom said actual shoreline remediation work will commence at the end of the contracting processes and mobilization of contractors to site.
"Remediation work in the swamp shall include but not limited to removal of oily soaked debris and stumps, raking of alga mat, removal of nipa palms, flushing of sediment, recovery of waste crude to treatment centre and most importantly the re-vegetation of mangrove which in itself will create jobs for those who will nurse mangrove seedlings and we will require quite a large number of them (about 5million) to plant, which means that there will be market for the nursed seedlings."
Follow us on twitter