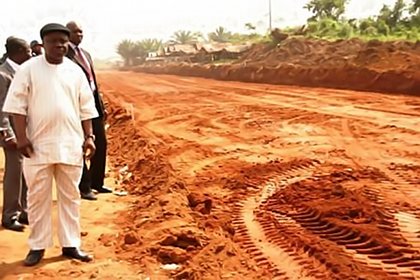 WARRI – OVER 20 Ijaw communities in Warri North Council area of Delta have threatened to disrupt the take-off of preliminary jobs at the proposed Export Processing Zone, EPZ, site over non-payment of compensation and even re-settlement of people to be displaced as a result of the gigantic Federal government project.
The protest came as a result of a visit to the project site in Koko town in preparation to moving to site in four weeks time to commence mappings and other basic engineering jobs.
In a protest letter signed by Chiefs Yuku Idoro and Macualey Idoro, Mr. Francis Tiemo, Stanley Okoro and Augustine Tobor respectively, the people stated that assessment of  homes, farms, cash crops and economic tree in readiness to evacuating the communities were done in April 2010, wondering why up till date the government has not deem it fit to pay adequate compensation to the supposed affected peoples and communities, even as it has not  arranged any alternative settlement  for the people.
They community leaders acknowledged the multiplier effect of the EPZ project in the area and the state in particular by way of increased socio-economic activities, they however insisted that things should be done properly so as to create the enabling and enduring environment for the take-off of the project.
Some of the listed communities include Yukugbene, Ojdogbene, Ologbobubou, Idenekimi, Oweigbene, Oligurongbene, Oboro, Zion, Kokodiagbene Abiala, Wekegbene Ubairo, Tobogbene and many others including some Itsekiri and Urhobo communities as well.