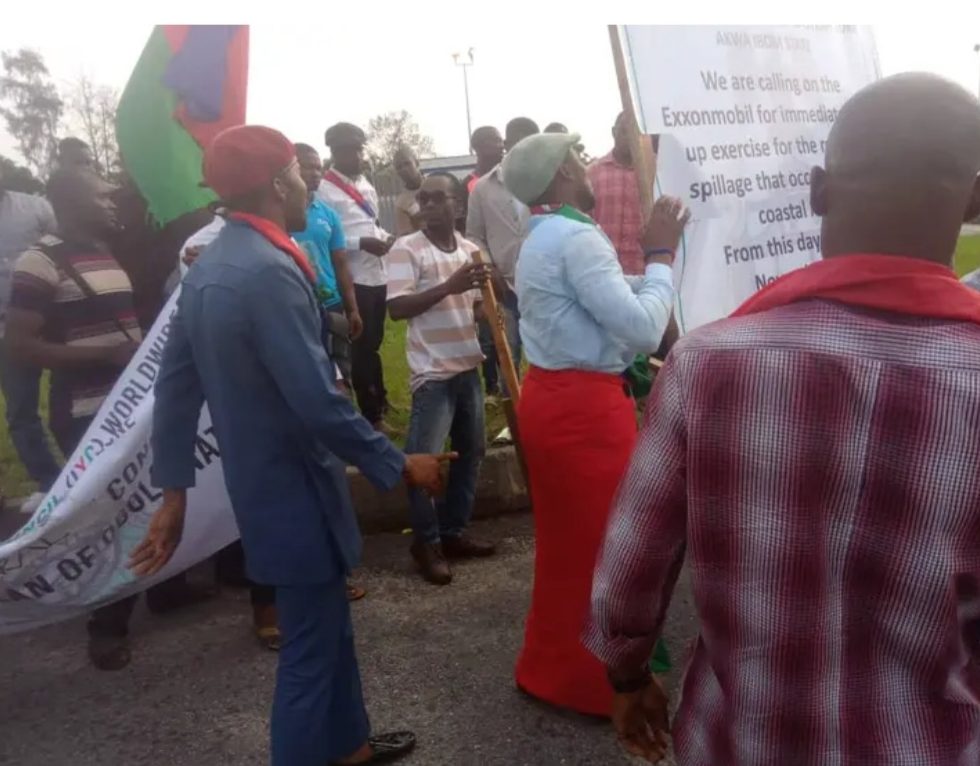 Mkpoikana Udoma
Port Harcourt — The Ijaw Youths Council has begun protest against ExxonMobil Producing Unlimited, over what they described as constant serial pollution of coastal communities, from crude oil and gas exploitation activities of the company in Akwa Ibom State.
The group who vowed to crippled both onshore and offshore operations of ExxonMobil, said the company cannot continue to carryout their operations while communities in Eastern Obolo and Ibeno LGAs are massively soiled with oil pollution from the company.
Chairman of IYC Joint Council in Akwa Ibom State, Mr Isaac Ebrewong Ikpe and Secretary, Michael Jaja, said the ExxonMobil has treated with kid gloves, the oil spill which occured since on 26th October 2021 in Ibeno, despite series of letters sent by the group to the company's management.
Ikpe said the council had issued a 7-day ultimatum last week to ExxonMobil, to immediately Initiate the process for the total clean up of the impacted area to avoid damage to both aquatic life and the people, whose means of livelihoods is fishing.
He explained that the unwillingness of ExxonMobil to clean up the spills with immediate effect was against all known regulatory and international best practice.
"ExxonMobil, over the years cares less for the well being of the people in Eastern Obolo and Ibeno clan other than oil exploration activities.
The time is ripe for us to fight for our rights and we will not relent in the agitation until our youths are empowered and the needed remediation is made to cushion the effect of the frequent oil spill and damaged environment.
"Ijaw youths will not stop until the right thing is done. Ijaw people deserve clean air and quality flora and fauna. If youth inclusion and remediation plan is not drawn, this protest can escalate to breakdown of law and order.
"We have written protest letters to notify the authorities that we are serious on this issue. Our resolution via congress is that this we will not relent until cleanup is done to remedy the effect of the spill.
"ExoxonMobil Producing Nigeria Unlimited should immediately as a matter of urgency initiate the process of cleaning up the entire Ibeno LG.A, as the oil spillage has spread beyond measure due to the delay on the clean up exercise or face a total shut down of their entire operation both Onshore and offshore, if our innocuous demand is treated with levity."
Similarly, the President of the Ijaw Youth Council, Comrade Peter Timothy Igbifa, has described as saddening the recurring issues of oil spills and other environmental damaging occurrences from oil firms in this modern era.
Igbifa noted that it was only fair that the Niger Delta people are empowered with wealth of their environment rather than die for what God already has given them.
He however called on Exxon Mobil to engage the people and build confidence, while commending the IYC Clans in Eastern Obolo and Ibeno for their peaceful disposition in the protest.