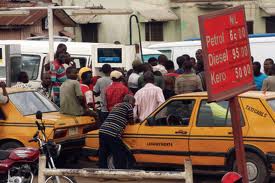 Okey Ndiribe & Soni Daniel
16 August 2012, Sweetcrude, ABUJA — THE Nigerian government, has accused petroleum marketers who were indicted by the Aig-Imoukhuede Committee on Subsidy Payments of hoarding fuel to put pressure on the authorities to withdraw the charges against them.
The petroleum marketers had earlier issued a seven-day ultimatum to the government to pay all outstanding claims on petroleum subsidy or they will shut down filling stations nation wide.
The government also clarified that its recent withdrawal of charges against four of the subsidy fraud suspects did not amount to discharge and acquittal. The Economic and Financial Crimes Commission, EFCC, said Wednesday that it withdrew the cases based on fresh evidence with a view to consolidating and preferring new charges against the affected firms.
According to EFCC Spokesman, Wilson Uwujaren, "the withdrawal of the charges against Pinnacle Oil and Gas Plc and others was deliberate".
"In the face of fresh evidence, the commission felt the need to firm up the charges, fully convinced that it is better to consolidate the charges ahead of formal arraignment than to start making amendments thereafter," he explained.
Meantime, accusing petroleum marketers of blackmail Wednesday, Minister of Finance and Coordinating Minister for the Economy Dr. Ngozi Okonjo-Iweala in a statement issued by her Senior Special Assistant, Mr Paul Nwabuikwu said "it is clear that the strike was instigated mainly by marketers who were indicted by the Aig-Imoukhuede Committee which investigated fuel subsidy payments. Their obvious intention is to blackmail the Federal Government in order to escape sanctions for the crimes they have committed."
The minister then urged Nigerians not to be deceived by their antics.
Responding to the claim by some marketers that they have embarked on strike because the Federal Government had failed to pay them for fuel imports she stated that: "The true position is that the Federal Government has been meeting its obligations to oil marketers in respect of all legitimate claims."
According to her: "Between April and May, 2012, Batches D/12 and E/12 involving 14 oil marketers with a claim of N17 billion were fully settled through the issuance of Sovereign Debt Notes and other relevant documentation."
She further stated that since her directive to continue payments of all verified claims, N25.6 billion worth of claims have been fully settled with the issuance of Sovereign Debt Notes.
Said she: "In all, between April and August this year, in respect of 2012 PMS claims, Sovereign Debt Notes amounting to N42.666 billion have been issued to 31 oil marketers."
The Minister further explained that the claims by marketers who have been recommended for further investigation by the Aig-Imoukhuede Presidential Committee have not been paid adding that payments or sanctions to this category of marketers will be determined by the outcome of investigations.
According to her: "Such tactics will not succeed because the Federal Government is determined to ensure that persons and organisations which did the wrong things do not get away with wrong actions and wrong behaviour.
"As we have communicated severally in the last few months, payment of marketers whose claims have been verified will continue to go on in a consistent and structured way which protects the best interests of the country.