Toritseju Vincent
Abuja — The Chairman MTN Nigeria, Chief Julius Adelusi Adeluyi has said the transportation modes in Nigeria has been altered following the invasion of the transport space by criminals across the country.
Speaking at the opening ceremony of the 4th edition of the National Transport Summit of the Chartered Institute of Transport Administration of Nigeria. CIOTA currently taking place at the Musa Yar dua Centre in Abuja, Adeluyi said that transport administrators at Summit focus on Transportation Modes and Terminates as Vectors of threats to safety and security of lives and properties as well as transport infrastructure.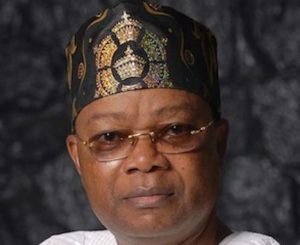 He said "The aim of this summit is to analyze, interrogate, examine and assess the various aspects of the theme and arrive at relevant conditions. The summit will focus; inter alia, on three engagement targets, Transportation Modes and Terminals as vectors of threats To safety and security, profiles of transport administration in Nigeria and their effectiveness for Prevention, Monitoring, checks and control! of threats at Modes and Terminals and Cyber security of Transportation Infrastructure and Organizations vulnerable to damage, hacking and access to information technologies and their associated logistic networks, Certainly, your deliberations will cover this and much more.
Adeluyi who also chaired the summit which had the theme, "Transport Safety and Security Administration in Nigeria" noted that the event is timely and certainly the deliberations will be deep and fit for purpose of Transportation Administration in Nigeria.
"However, in the absence of a well-structured follow-up strategy, these resolutions and recommendations might follow the path of earlier ones, gathering dust in forgotten bureaucratic shelves.
"The nation needs a strong, well-coordinated institute like the CIOTA. Let us remember that if an Institute is big enough, it will always be bigger than its problems,
"The Institute must never tire of asking the government to create the enabling environment to ease the development of Transportation business in Nigeria adding that
transportation sector is huge and getting bigger all over the world, Nigeria Included, whether it be Airways, Roadways, Railways or waterways. "Transportation provides access services and activities in education, employment, shopping, social and economic activities. Less than 100 years ago, most people were born, lived and died within 100 miles or less of their location. Today people can travel all over the world in a few days or weeks. There are, for example, over 60,000 people in the air over the US space at any given time.
"One of every 7 jobs in the US Is related to transportation. That is awesome! Walking was the oldest form of transportation until about 4000 BC when horses and donkeys were domesticated. The first trains in the UK were in 1804, eighty years before the first car came into being.
"The first speeding ticket was issued in 1902 to a driver doing 45mph, showing administrative discipline. The world's fastest train, the Mag/ev [magnetic levitation], the Concorde, which did New York to London, in 2 hours 52 minutes 59 seconds on February 7, 1996, and all other wonders in the transportation world came to pass because there was the enabling environment. Who best to press effectively and persistently for such an enablement for the development of transportation in Nigeria? CIOTA! The nagging question is: Is CIOTA ready to travel from words to action after this summit? He queried.
Similarly, in his goodwill message, the Chief of Army Staff General Faruq Yahata also said transportation constitute a significant factor in the sustainable development of any country as it's permeating many economic sectors, facilitate international trade, support food security delivers energy and enable industrial and infrastructural development.
Yahata who was represented by Director of Nigeria Army logistics, Major General E. Akerejola also noted that transportation generate employment and helps create prosperity.
Follow us on twitter