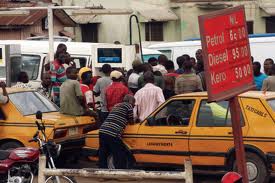 Les Leba
23 July 2012, Swetcrude, LAGOS – ATTRITION, social stress and economic losses experienced during extended periods of fuel scarcity would make Nigerians pray that such traumatic situations do not arise.
However, we recall the media interview with Dr. Okonjo-Iweala, Finance Minister and Coordinating Minister of the Economy, in June this year; in response to a question as to whether subsidy payments were ongoing, she confirmed that out of N888bn budgeted for subsidy in 2012, N451bn had already been paid out, well before the end of the second quarter!
Incidentally, the N451bn was in addition to about N1 trillion already paid to oil marketers to settle part of 2011 subsidy claims! The Minister explained that the rapid depletion of the provision for subsidy has therefore necessitated a slowdown in the payment of claims of marketers. Indeed, according to the Minister, only N17bn had so far been released for 2012 claims! (See pg 19, Punch, 18/6/2012). Such reality can only make oil marketers jittery with regard to commitment for future deliveries.
Besides, in spite of the collateral of sovereign guarantee for fuel imports, banks are still concerned by the very late liquidation of loans by oil marketers. Marketers are also concerned that these late payments would increase their cost of funds, and may ultimately leave them with little or no margin in this enterprise.
Worse still, crude prices in excess of $100/barrel together with Naira depreciation in the last four months may also make subsidy payments predicated on this benchmark inadequate to cover import loans obtained by marketers, especially when repayment is compounded with excessive charges for almost six months' late payment.
In a media comment on delayed subsidy payments, a major oil importer confirmed that "the banks give us loans based on 21% and they usually apply a default rate of 35%…. Many of us have not been paid for imports made in February 2012! A lot of marketers are still being owed subsidy arrears for 2011." The spokesman of another major oil marketer disclosed that "the banks are already getting impatient with delayed loan repayments" (Punch, 19/6/2012).
What immediately becomes obvious from the above is that if some marketers are yet to receive payments for supplies made in 2011, it is just possible that much of the provision of N888bn in the 2012 budget may be applied for settlement of last year's subsidy claims!
It is worrisome that the Finance Ministry together with other related agencies are yet to fully reconcile the actual daily national fuel consumption nor have they fully identified those who submitted false claims for subsidy. More worrisome still, is the fact that the relevant authorities failed woefully to alert the government on the inadequacy of the 2011 budget provision of less than N300bn for subsidy.
Furthermore, the constitutional illegality of extra-budgetary spending of over six times the approved appropriation for subsidy seems to have been glossed over. In an attempt to manage this awkward situation, Okonjo-Iweala indicated that subsidy payments for 2012 would be staggered; according to her, "we just slowed down the payments; once we have verified that payments already made are genuine, we will commence payment again, but we will not be stampeded into making payments until we are sure of them". Evidently, things have gone awry with fuel supply and subsidy management.
In addition, the Minister has now acted on a presidential recommendation to establish a company "that will certify the discharge and also verify the payments that will be made for fuel imports". The Minister revealed that the contract with the erstwhile official auditors of this process has now been terminated. (Daily Independent, 17/6/2012, pg. 28).
Presumably, the new company is an internal department of the Finance Ministry; even if this new arrangement allows for easier and direct supervision by the ministry, it is not yet clear why we should expect this internal audit unit to do a better and more transparent job than the team of independent, private auditors!
It is rather disconcerting that 12 months or so after her second coming, Dr. Iweala still does not know the average volume of fuel consumption in Nigeria. It is sad that under her purview, the fuel subsidy budget for 2011 was brazenly exceeded without as much as a whimper of protest from her ministry until after the bubble burst in the first quarter of 2012!
The consequent stalemate in imports because of above factors, will lead to a huge drop in fuel importation, and it may once again be crying time nationwide, as fuel scarcity disrupts normal life. That notwithstanding, it will be market day once again for those nefarious hoarders of fuel. Nonetheless, Nigerians are keeping a close watch, to thwart the large-scale fraud and theft witnessed lately in this commercial sub-sector.
(Les Leba is a columnist who writes for the Vanguard Newspapers.)