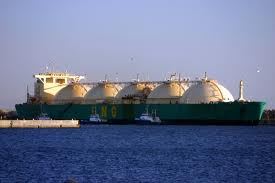 22 August, 2011, Sweetcrude – Nigeria is looking in the direction of Japan and China for the exportation of Liquefied Natural Gas within the next few years, BusinessDay has learnt.
Industrial expansion in these countries is seeing geometric growth in the demand for gas and other energy sources year on year and this trend is expected to carry into the foreseeable future. The axis has the demand potential of between 8 and 18 million metric tones of Liquefied Natural Gas per annum.
Nigeria could benefit tremendously from supplying gas to these two countries, if the various gas projects are properly implemented between now and 2015. The Brass LNG project may be a major supplier of gas to those markets.
This is coming on the heels of the approval by the South Korean government of two deals worth Won 90 trillion ($84 billion) with Nigeria . The deals are coming from the country's state-run Korea Gas Corporation to import 5.64 million mt/year of LNG to meet rising demand for fuel, with two major multinational oil companies in Nigeria – Shell and Total, being major suppliers of gas.
Japan is looking towards Nigeria as an energy source, as it is shifting focus from nuclear to safer energy technologies, following leaks of radio-active material from one of its nuclear plants, caused by the recent tsunami.
Industry analysts said Nigeria has the opportunity to export gas to Japan and Asian countries where the supply gap must be met to enhance their energy needs. The country they said must add value to its gas resources so as to monitise it.
China for its part, produces gas but cannot meet its domestic demand. It must therefoe import the shortfall.
This is why Nigeria should speed up its LNG projects, industry watchers have said.
President Goodluck Jonathan says that by 2014 his administration would have positioned Nigeria as the regional port for gas based industries.
Austine Onowon, group managing director of the Nigerian National Petroleum Corporation (NNPC) said if everything works well and the implementation of the projects go in the right direction, by 2015 Nigeria would have been able to contribute substantially to balance the demand and supply of gas.
The Final Investment Decision ( FID) of the Olokola LNG and the Brass LNG which is estimated to produce about 10 million metric tonnes of LNG and later increase by another 10million metric tones per annum, are yet to be signed.
However the FID for the Brass LNG is expected to be signed by the end of this year. Japan LNG has some equity in Brass LNG .While that of Olokola LNG may follow later.
The signing of the FID for train seven of the Nigeria LNG is also still in waiting – until government decides to give the go- ahead to oil and gas companies to supply gas to the train. The major markets of the Nigeria LNG are Spain , Italy and France .
Meanwhile, under the gas supply deal with Korea , Kogas will import 1 million metric tones mt per year from Shell's other fields in Russia and Nigeria beginning 2013. In a separate deal with Total, Kogas will import 2 million mt/year of LNG from the Ichthys field in Australia and other fields in Nigeria , Norway and Egypt, from 2014 to 2031. The two deals will be formally signed in September, the ministry said.