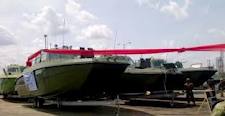 10 September 2012, Sweetcrude, PORT HARCOURT – NIGERIA's Defence Headquarters, DHQ, has inaugurated 10 new patrol gunboats to boost the operations of the Joint Task Force, JTF, in the Niger Delta.
Inaugurating the gunboats in Port Harcourt, Governor Chibuike Amaechi of Rivers said they would relieve the operational problems faced by JTF.
"As you are aware, our beloved country is facing multiple security challenges, particularly in the maritime environment.
"These internal security problems include piracy, smuggling of small arms and light weapons, kidnapping and illegal oil bunkering.
"These have been a source of great concern to the Federal Government, especially the members of the armed forces, who have invested a lot of efforts in curbing this undesirable trend," he said.
Amaechi explained that it was the desire of the government to bring the deplorable situation to an end as quickly as possible that had necessitated the acquisition.
He said the uniqueness and significance of the ceremony were tied to the fact that the occasion marked a milestone in enhancing internal security.
"It is also the first time the DHQ had collaborated with an indigenous company to construct maritime vessels.
"I congratulate the chief of defence staff for having the courage to extend the frontiers of Nigeria's military technology by taking this long awaited first step.
He expressed optimism that Nigeria could build its industries with local technology and create employment opportunities for the citizens.
The Chief of Defence Staff, Air Chief Marshal Oluseyi Petinrin said security challenges facing the nation necessitated the acquisition of the best available equipment for the armed forces.
Petinrin said the funds used for the purchase of the boats were initially meant for repairs of unserviceable, imported patrol craft in the JTF holding.
"During negotiations for the repairs, it was noted that the cost of repairing a patrol boat could be routed to acquiring locally built ones whose operational reliability would not be in doubt.
"Based on the foregoing and the express permission of the Commander in Chief, the DHQ decided that new boats were to be built.
"Today, we are commissioning these new boats for enhancing the security of our maritime environment. I urge Nigerians to be patriotic and desist from such acts that will be detrimental to the well being of the nation," he said.
Petinrin enjoined the JTF Commander to use the boats effectively by ensuring that they were manned by capable hands.
The News Agency of Nigeria reports that the boats were made by Modant Marine Limited.
Its Chairman, Mr Moses Taiga, said they were modeled to serve the oil and gas industry, the armed forces, the police, Customs and Immigration Services, Nigerian Ports Authority and others.
Taiga said the boats were fully re-configured for military patrol or search and rescue.